Improving Communication Skills for Oncology Clinicians During the COVID Pandemic


Deborah C. Marshall, MD, MAS

Kavita Dharmarajan, MD, MSc
Living in the era of COVID-19 has heightened fear and anxiety among patients with cancer. On the one hand, they are at higher risk of serious COVID-related illness. On the other hand, delaying cancer-focused treatment raises concerns of disease progression. This pandemic has led to dramatic changes in the way cancer care is delivered1,2 and is leaving everyone—patients and clinicians alike—with an uncomfortable feeling of uncertainty.
What Is VitalTalk?
Engaging in empathic communication with patients and families can help oncology clinicians continue to provide high-quality cancer care, even when barriers exist. VitalTalk—a nonprofit organization created to improve clinicians' communication skills on individual and institutional levels—has created a series of communication tips, talking maps, and video demonstrations. All of these resources are freely available on the Web (https://www.vitaltalk.org/covid-resources/) and via a phone app ("VitalTalk Tips"), to help clinicians navigate difficult subject matters related to taking care of patients during the COVID-19 pandemic.3 The topics include advance care planning, virtual goodbyes, explaining decision-making in the setting of limited resources, and sharing bad news with compassion and empathy.2
These skills are largely based on the core principles of
showing empathy by acknowledging and responding to patients' emotions, delivering bite-sized pieces of medical information, and eliciting patients' and families values—to make recommendations that are aligned with the type of care patients' and families' wish to receive.
Tailored for COVID-19 Conversations
We have adapted the VitalTalk COVID-ready communication tips for ambulatory oncology clinicians to use (see Table 1 and available at https://www.vitaltalk.org/topics/covid-collaborative-resources/). It is intended to supplement the extensive COVID-19 and advance care planning resources available and to address the most common scenarios oncology clinicians will likely encounter as the COVID-19 pandemic continues across the globe.
As the ever-changing circumstances of the pandemic continue to evolve, many of us find ourselves communicating with our patients about expected alterations in cancer care delivery. For patients with cancer and their families, the fear, vulnerability, and uncertainty of their cancer and COVID-19 are amplified in these situations.4 We hope that adding these communication tools to the repertoire will provide clinicians a meaningful way to communicate their continued compassion and support for their patients and will also help to dismantle the suspicion and mistrust that many individuals may be feeling as COVID-19 amplifies inequalities that affect all of us. 
Dr. Marshall is a resident and research fellow in the Department of Radiation Oncology at the Icahn School of Medicine at Mount Sinai, New York. Dr. Dharmarajan is Associate Professor of Radiation Oncology and Palliative Medicine at the Icahn School of Medicine at Mount Sinai.
Acknowledgments: The authors would like to thank Robert Arnold, MD; Anthony Back, MD; James Tulsky, MD; and VitalTalk for their contributions to and guidance in this work.
DISCLOSURE: Dr. Marshall's contribution to this project was supported in part by the National Institutes of Health/National Cancer Institute (T32 CA225617). Drs. Marshall and Dharmarajan reported no conflicts of interest.
REFERENCES
1. Schrag D, Hershman DL, Basch E: Oncology practice during the COVID-19 pandemic. JAMA. April 13, 2020 (early release online).
2. Marron JM, Joffe S, Jagsi R, et al: Ethics and resource scarcity: ASCO recommendations for the oncology community during the COVID-19 Pandemic. J Clin Oncol 38:2201-2205, 2020.
3. VitalTalk: COVID ready communication playbook. Available at https://www.vitaltalk.org/guides/covid-19-communication-skills/. Accessed June 30, 2020.
4. Curtis JR, Kross EK, Stapleton RD: The importance of addressing advance care planning and decisions about do-not-resuscitate orders during novel coronavirus 2019 (COVID-19). JAMA. March 27, 2020 (early release online).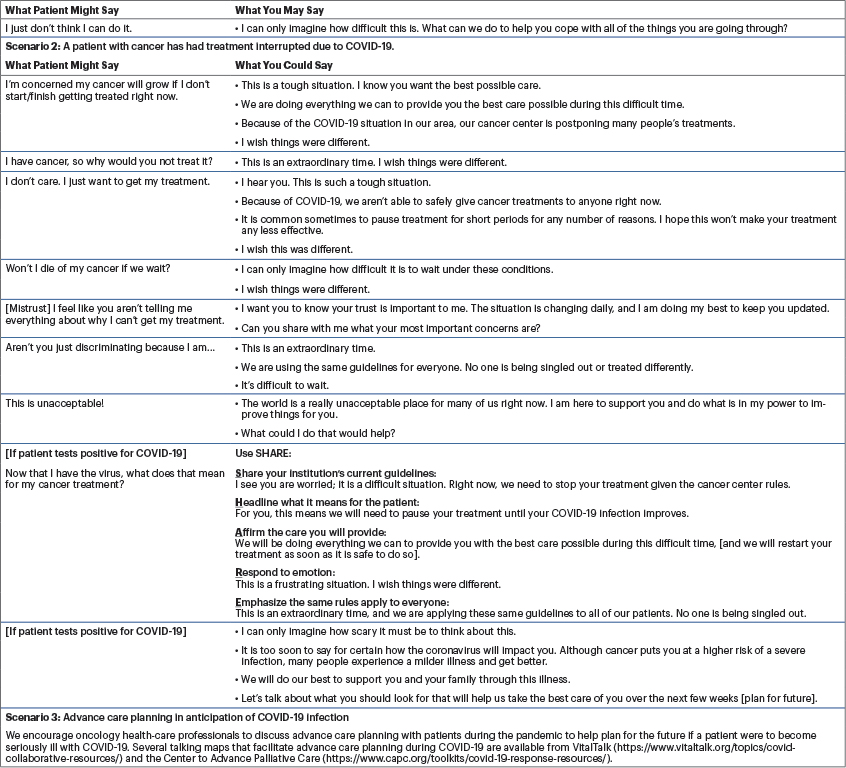 ---