Huntsman Cancer Institute Brings Home Cancer Care to Rural Utah

A $4.5 million gift from the Huntsman family will fund the expansion of a unique program at Huntsman Cancer Institute (HCI) at the University of Utah that brings specialty cancer care directly to patients in their homes. With this gift, HCI's Huntsman at Home will extend to rural Utah. The goal is to partner with patients and their caregivers, communities, and medical teams to provide an alternative to hospital visits at a medical center or an emergency department for those who live far from HCI's Salt Lake City site.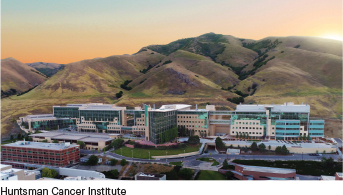 The rural expansion announcement follows the first evaluation of Huntsman at Home at the ASCO20 Virtual Scientific Program, where HCI scientists detailed an analysis that showed Huntsman at Home patients had improved outcomes and reduced medical costs compared with a control group of patients with cancer who did not participate in the program.
Providing an Extensive Range of Services
Huntsman at home launched in 2018 and is currently exclusive to patients living within a 20-mile radius of HCI's flagship hospital on the campus of the University of Utah. The program's services range from symptom management to acute medical, postoperative, and end-of-life care. The team includes HCI nurse practitioners and oncologists. Working in partnership with Community Nursing Services, a home health and hospice agency, the team provides registered nurses, nursing aids, social workers, and a physical therapist. All aspects of care are conducted in consultation with the patient's medical oncologist at HCI.

Kathleen Mooney, PhD, RN, FAAN
"This type of sophisticated cancer home care is not fully covered by insurance plans," noted Kathleen Mooney, PhD, RN, FAAN, HCI Cancer Population Scientist and Distinguished Professor of Nursing at the University of Utah. Dr. Mooney, who leads research evaluation efforts for Huntsman at Home, added: "We are hopeful this expansion to rural patient homes, as well as the early promising results of the Salt Lake City Huntsman at Home project, will provide compelling evidence for the need for insurance plans to cover this type of care for [patients with cancer]." 
DISCLOSURE: Huntsman at Home is funded by HCI and Huntsman Cancer Foundation. The evaluation of Huntsman at Home is supported by the Cambia Foundation. The rural expansion is supported by the Huntsman Foundation and the Rita & Alex Hillman Foundation.
---