Fred Hutch Announces New Additions and Leadership to Board of Trustees

Fred Hutchinson Cancer Research Center announced the addition of two new members to its Board of Trustees, along with a new Chair and Vice Chair. Kathy Surace-Smith, JD, will take over the Board Chair position from Matt McIlwain, MBA, who now becomes immediate Past Chair. Ms. Surace-Smith, who is Senior Vice President, Human Resources and Legal Affairs, of NanoString Technologies, has served on the Board since 2014 and as Vice Chair since 2018.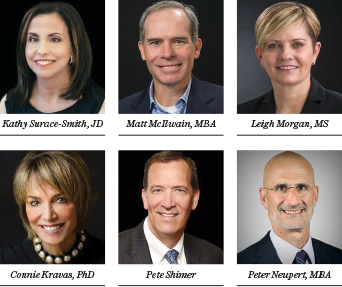 "Technology, finance, advancement, and innovation are critical to the lifesaving work done at Fred Hutch," Ms. Surace-Smith said. "I am excited to take on the responsibility of Chair."
Leigh Morgan, MS, steps in as the new Vice Chair. "It's been an honor to serve on the board over the last 3 years and see the amazing progress being made not only in cancer research, but infectious diseases and now COVID-19 research," Ms. Morgan said. "I'm optimistic that Fred Hutch's scientists will continue to make breakthroughs in these fields with the support of our trustees."
New Board Members
Connie Kravas, PhD, and Pete Shimer officially started their service to the Board of Trustees in June. Dr. Kravas has worked in the fundraising and advancement field for more than 30 years. She is former Senior Vice President for the University of Washington Advancement and President Emeritus of the University of Washington Foundation. Mr. Shimer has served as Chief Operating Officer for Deloitte and in various other roles at the company for the past 24 years. He has helped expand the organization's U.S. and global operations. Health technology adviser Peter Neupert, MBA, is leaving the Board after concluding three consecutive terms. He is credited for bringing valuable biotechnology and health technology expertise to the institution. 
---