Fox Chase Cancer Center Welcomes New Staff Members

Fox Chase Cancer Center has announced the hiring of three new staff members who will begin their work with the cancer center this month.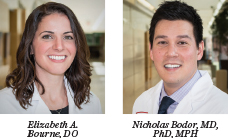 Brandon Bachert, MD, joins the Department of Diagnostic Imaging as Assistant Professor. He comes to Fox Chase from Albert Einstein Healthcare Network, where he was a staff radiologist. He also completed his diagnostic radiology residency there. He received his medical degree from Drexel University College of Medicine. Dr. Bachert completed an abdominal imaging fellowship at the Hospital of the University of Pennsylvania.
Elizabeth A. Bourne, DO, joins the Department of Medicine as Assistant Professor in the Division of Hospitalist Medicine. Dr. Bourne comes to Fox Chase from Jefferson Health Northeast in Philadelphia, which comprises Jefferson Bucks, Jefferson Torresdale, and Jefferson Frankford, where she was Chief Internal Medicine Resident. While at Jefferson Northeast, Dr. Bourne spent time as a hospitalist and a member of the intensive care unit, rapid response team, hematology/oncology, and palliative care. She received her Doctor of Osteopathic Medicine degree from Edward Via College of Osteopathic Medicine, Lynchburg, Virginia.
Nicholas Bodor, MD, PhD, MPH, joins the Department of Hematology/Oncology and will serve in the Thoracic Oncology Program. Dr. Bodor will join Fox Chase upon completion of the Fox Chase–Temple Hematology/Oncology Fellowship Program. He received his medical degree from the Louisiana State University School of Medicine in New Orleans. Dr. Bodor also earned a doctorate in Public Health Nutrition and a Master of Public Health degree from the Tulane University School of Public Health and Tropical Medicine. 
---