Florida Cancer Specialists Appoints New Chief Executive Officer

Florida Cancer Specialists and Research Institute (FCS) announced its Chief Financial Officer, Nathan H. Walcker, MBA, has been named Chief Executive Officer (CEO). Mr. Walcker succeeds the current CEO, Brad Prechtl, MBA, who is retiring but will continue to serve as a consultant.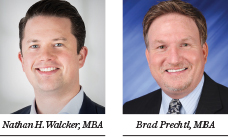 Mr. Prechtl has acted as the institution's CEO since October 2009. Under his leadership, FCS achieved many significant milestones, including the expansion of clinical sites, physicians, and staff to ensure that patients have access to the highest quality care in their communities. He was also instrumental in the development and growth of imaging, specialty pharmacy, care management, pathology services, and clinical trials research.
Mr. Walcker joined FCS in August 2019, bringing more than a decade of health-care, physician services, and corporate finance expertise. During his time at FCS, he has made significant contributions across the areas of finance, strategy, and operations.
After earning his undergraduate degree in economics from Columbia University, Mr. Walcker started his career on the trading floor at Merrill Lynch in New York. He later received his MBA in finance from Columbia Business School and has since held senior positions as an investment banker, focusing on mergers and acquisitions and strategic advisory for health-care clients across the globe.
"Florida Cancer Specialists is a special organization doing great things for patients within local communities across the state," said Mr. Walcker. "I look forward to building on the solid foundation that materialized under Brad's leadership and driving FCS forward into its next chapter."
---