First-Line Liposomal Irinotecan–Containing Regimen Studied in Advanced Pancreatic Cancer

In patients with newly diagnosed locally advanced or metastatic pancreatic adenocarcinoma, treatment with liposomal irinotecan plus fluorouracil (5-FU), leucovorin, and oxaliplatin (NALIRIFOX) resulted in a median progression-free survival of 9.2 months and a median overall survival of 12.6 months, in an open-label phase I/II study led by Zev A. Wainberg, MD, of the University of California Los Angeles. The findings were presented during the European Society for Medical Oncology (ESMO) World Congress on Gastrointestinal Cancers 2020 Virtual by Dr. Wainberg, who noted the need for life-prolonging and well-tolerated therapies for persons with pancreatic cancer, who typically present with metastatic disease and have a poor prognosis.1

Zev A. Wainberg, MD
The established first-line treatments are gemcitabine/nab--paclitaxel or FOLFIRINOX (nonliposomal irinotecan, 5-FU, leucovorin, oxaliplatin). Nonliposomal irinotecan is a component of FOLFIRINOX but has a complex and rapid metabolism, a short half-life, and dose-limiting toxicity, explained Dr. Wainberg.
"Liposomal irinotecan may provide additional benefits over the nonliposomal formulation," according to Dr. Wainberg, who noted this may stem from its longer retention in the tumor. In preclinical models, the active metabolite persists in tumors for about 168 hours, compared with less than 48 hours for its nonliposomal counterpart; in terms of cytotoxic activity, this prolonged exposure appears to be more important than high concentrations.
Liposomal irinotecan has been approved by the U. S. Food and Drug Administration, in combination with 5-FU and leucovorin, for the treatment of metastatic pancreatic adenocarcinoma in patients who experience disease progression after gemcitabine-based therapy.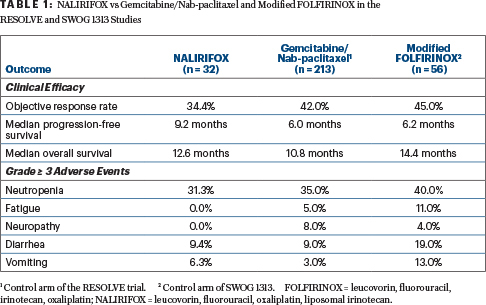 The current phase I/II study evaluated liposomal irinotecan (in combination) in treatment-naive patients with locally advanced or metastatic disease. The study aimed to determine dose-limiting toxicities and identify the recommended dose for future development. Additional exploratory objectives were to determine genomic characteristics of the tumors and their correlations with efficacy endpoints.
Study Details
The open-label, two-part phase I/II trial enrolled 31 patients at 15 sites in the United States, Spain, and Australia. Four dosing cohorts were evaluated. Cohort B was selected as the dose moving forward because it produced less acute and cumulative toxicity, including fewer hospitalizations, than the other doses. This cohort (in which 87.5% of patients had stage IV at diagnosis) was expanded to 32 patients, who formed the basis of this analysis.
The cohort B schedule and the regimen moving forward in future trials included liposomal irinotecan at 50 mg/m2 plus 5-FU at 2,400 mg/m2, leucovorin at 400 mg/m2, and oxaliplatin at 60 mg/m2. Data cutoff was February 2020.
Clinical Response
Median progression-free survival was 9.2 months (95% confidence interval [CI] = 7.69–11.96 months), and median overall survival was 12.6 months (95% CI = 8.74–18.69 months), Dr. Wainberg reported. The overall response rate was 34.4%; one patient had a complete response, and 10 had partial responses. Stable disease was achieved by 46.9%, yielding a disease control rate at 16 weeks of 71.9%. The median duration of response was 9.4 months.
KEY POINTS
A phase I/II study evaluated the NALIRIFOX regimen in previously untreated, locally advanced/metastatic pancreatic adenocarcinoma.
The regimen contains liposomal irinotecan, fluorouracil, leucovorin, and oxaliplatin.
A median progression-free survival of 9.6 months was observed, with a median overall survival of 12.6 months.
Liposomal irinotecan is retained longer in the tumor and therefore may have benefits over its nonliposomal counterpart.
Tumor profiling and response data were available for 12 patients. No difference in clinical activity was seen between the classical and basal-like subtypes, but the numbers were very small, commented Dr. Wainberg.
Safety Overview
Treatment-related adverse events grade ≥ 3 were observed in 69% of patients. The most common toxicity grade ≥ 3 was neutropenia, occurring in 31%; febrile neutropenia developed in 12% of patients, "but none discontinued treatment," reported Dr. Wainberg. "Of note, granulocyte colony-stimulating factors were not given prophylactically or mandated. This was left up to the institution."
"Our findings suggest that NALIRIFOX is tolerable in newly diagnosed metastatic pancreatic cancer. No new safety signals were identified, and its antitumor activity is promising," Dr. Wainberg concluded.
The regimen is now being evaluated in the global randomized phase III NAPOLI-3 trial of previously untreated metastatic pancreatic adenocarcinoma. In NAPOLI-3, NALIRIFOX is being compared to nab-paclitaxel plus gemcitabine therapy, and the primary endpoint is overall survival. 
DISCLOSURE: The study was sponsored by Ipsen. Dr. Wainberg has served as a consultant or advisor to Array BioPharma, AstraZeneca/MedImmune, Bayer, Bristol Myers Squibb, Five Prime Therapeutics, Genentech, Ipsen, Lilly, Merck, Merck KGaA, and Novartis; has received institutional research funding from Five Prime Therapeutics, Merck, Novartis, Pfizer, and Plexxikon; and has been reimbursed for travel, accommodations, or other expenses by Genentech.
REFERENCE
1. Wainberg AZ, Bekaii-Saab T, Boland PM, et al: First-line liposomal irinotecan plus 5-fluorouracil/leucovorin plus oxaliplatin in patients with pancreatic ductal adenocarcinomas: Long-term follow-up results from a phase 1/2 study. ESMO World Congress on Gastrointestinal Cancer 2020 Virtual. Abstract LBA-1.
---
Related Articles
The study's invited discussant, Philip A. Philip, MD, PhD, FRCP, Professor of Oncology, Pharmacology, and Medicine and the Kathryn Cramer Endowed Chair in Cancer Research at Karmanos Cancer Institute, Wayne State University School of Medicine, Detroit, asked whether another triplet regimen was...