Cleveland Clinic Cancer Center Oncologists Earn National Recognition as Institution Expands Staff

Cleveland Clinic Cancer Center recently announced news about the following physicians, including the appointment of four new staff members:
Shilpa Gupta, MD, received a 2-year, $573,850 grant from the Department of Defense to study biomarkers of response and resistance to immunotherapy and to apply machine learning algorithms to generate a comprehensive biomarker. The award will assist her team in the identification of biomarkers to help predict whether patients with muscle invasive bladder cancer will be responsive or resistant to immunotherapy.
Alok A. Khorana, MD, was appointed as the new Chair of the National Blood Clot Alliance's Medical & Scientific Advisory Board. As Chair, Dr. Khorana also now assumes a seat on the Board of Directors, acting as liaison with the organization's volunteer lay leadership. He will also work with senior staff on the design and implementation of programs and services.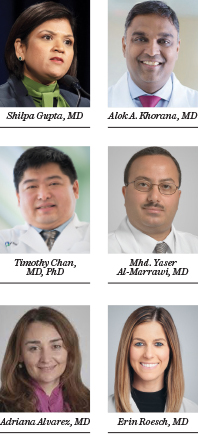 New Staff Members
Timothy Chan, MD, PhD, is Director of the Center for Immunotherapy and Precision Immuno-Oncology. Dr. Chan joined Cleveland Clinic from Memorial Sloan Kettering Cancer Center and Weill Cornell School of Medicine, where he led the Immunogenomics and Precision Oncology Platform and was a tenured professor, the PaineWebber Chair, and the Translational Oncology Division Chair. He is an internationally recognized expert in precision immuno-oncology and a pioneer in using genomics to determine which patients will respond best to certain types of immunotherapies.
Mhd. Yaser Al-Marrawi, MD, is a medical oncologist at the clinic's Mansfield, Ohio, location. Previously, Dr. Al-Marrawi was a hematology and oncology physician at The Ohio State University James Cancer Hospital and Solove Research Institute.
Adriana Alvarez, MD, joined the Department of Palliative Medicine, where her interests include cancer anorexia and cachexia, cancer complications, fatigue, pain, and other symptoms. Before joining the clinic, Dr. Alvarez was Clinical Assistant Professor at Wake Forest University Health Science.
Erin Roesch, MD, is a medical oncologist specializing in the treatment of breast cancer at the Cleveland Clinic. Her interests include the development and application of novel agents, triple-negative breast cancer, fertility in patients with cancer, women's health, and ­survivorship.
---