ASCO Special Report: Resuming Cancer Care Delivery During the COVID-19 Pandemic

I'm very pleased to be joined by Piyush Srivastava, MD, Past Chair of ASCO's Clinical Practice Committee. Dr. Srivastava is a practicing gastrointestinal oncologist, Regional Medical Director of the End of Life Options Program, and Director of Outpatient Palliative Care at Kaiser Permanente Walnut Creek Medical Center in California.
We're going to talk about the recently released ASCO Special Report: A Guide to Cancer Care Delivery During the COVID-19 Pandemic. Dr. Srivastava was instrumental in developing the report, and we'll speak about the guidance that the report provides for oncology practices as they return to more routine care delivery.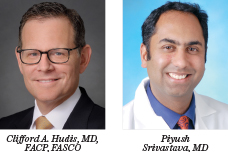 When the outbreak began, oncology practices nationwide immediately began making operational changes designed to protect the safety of patients and staff. This meant adjusting to resource shortages that were unfolding and complying with national and state restrictions on elective procedures, among many other things. Today, communities across the country are in varying states of recovery. They are facing a real transition in terms of oncology practice; some are returning to more routine care while continuing to be acutely attuned to protecting the health and safety of both patients and staff.
CH: What I would like to do is dive into some of the specific policies and practices that were outlined in the report. As I look at it, it was really broken down into stages of patient care. For example, before a patient even arrives on site, many practices are prescreening or triaging them. What are some of the effective methods that you have seen put into place and that we should recommend to practices now reopening?
PS: The Special Report lists very clear sequential steps to consider in safely bringing patients into cancer centers. I'll highlight a few of them.
The first step is to reach out to patients well before their scheduled visit to the cancer center. By calling the patients and family members, we can educate them about the process they'll experience before they come into the center. This also allows them to ask questions, and I think that goes a long way—transparent communication can help reduce anxiety and fear. Also, reaching out to a patient before their appointment is a great way to screen for COVID-19 symptoms by asking related questions.
Another step is a single point of entry. When patients comes into the cancer center, there should be one point of entry so that their temperature can be checked and they can be screened again for COVID-19 symptoms.
I also think an important benefit of these steps is that staff and providers will feel confident knowing the institution has taken many precautions to ensure their safety by minimizing their risk of exposure to COVID-19.
CH: What are some of the considerations that oncology practices should factor into their use of telemedicine in care delivery?
PS: That's a fantastic question, because, well, telemedicine has been forced upon most institutions, and the institutions had to find an effective way to provide care remotely. One thing that I personally struggled with (and I think my institution struggled with) is, who is the right patient for telemedicine?
The report talks about specific patient categories that help make it easier to provide patient care remotely. For example, visits that do not require an in-person physical exam or chemotherapy treatment, or visits that don't need any in-office diagnostics, are appropriate for telemedicine, as well as the follow-up appointment, because it's a quick check-in that can be done by video or phone.
A couple of things to consider with telemedicine are the audio and visual capabilities. Even in the Bay Area in California, there are spots that don't have the best reception, and that can become problematic.
CH: The report addresses how we maintain a healthy workforce, and it specifically gets into
questions of testing, scheduling, and even dealing with stress. What exactly should facilities and practices be thinking about for their staff right now?
PS: The Special Report lays out considerations for institutions to think about when they are caring for the workforce, both physically and emotionally. It asks that institutions make sure that they are putting their health-care practitioners first by checking in with them to make sure that they are not ill and ask if they have been exposed to anybody outside of the medical system.
Oncologists are worried about their own health and the safety of their loved ones outside of the medical center. I think all of us as oncology providers are feeling a little disillusioned and saddened because we are not able to provide oncology care like we normally would, and that's a huge adjustment that comes with some moral distress.
So, the report also asks that institutions check in with their health-care providers also to make sure that their emotional well-being is good and to also make sure that they feel that their family and loved ones are safe at home.
CH: I think that's great. As we wrap up, are there additional takeaways that you want our community to understand about these recommendations?
PS: I hope practices remember that these guidelines are to help them develop and change policies at individual institutions. I also hope that oncology practitioners and administrators remember that we're all in this together. So, I hope that this report is a start of a collaboration that can be ongoing with ASCO and with oncology providers around the world. I am confident in ASCO's ability to collaborate with the oncology world in order to uplift and maintain cancer care during and after the pandemic.
CH: Well, that's as nice and complete of a summary as one could hope to hear. I'm grateful to you for your time on this initiative and the effort that you've put into it.
The Special Report is part of ASCO's larger commitment to providing information, guidance, and resources that will support clinicians, the cancer care delivery team, and patients with cancer, both during the COVID-19 pandemic and beyond, at asco.org/asco-coronavirus-information. 
Editor's note: Dr. Hudis hosts the ASCO in Action Podcast, which focuses on policy and practice issues affecting providers and patients. An excerpt of a recent episode is shared here; it has been edited for length and clarity.
© 2020. American Society of Clinical Oncology. All rights reserved.
---