American Cancer Society and Flatiron Health Announce Recipients of the Real-World Data Impact Award

Three American Cancer Society (ACS) researchers will receive the Real-World Data Impact Award. The joint grant-making program, supported by the ACS and Flatiron Health, seeks to accelerate cancer research and improve treatment and outcomes for patients. The researchers, already funded by the ACS, will be given additional funding as well as access to Flatiron's national de-identified oncology data sets, curated from electronic health records for research purposes.
Award Recipients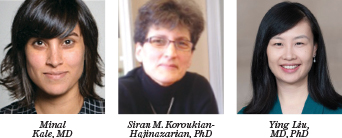 The recipients of the 2020 awards are:
Minal Kale, MD, Assistant Professor of Internal Medicine at the Icahn School of Medicine at Mount Sinai. Dr. Kale will conduct a comparative effectiveness study of immune checkpoint inhibitor therapy in individuals with non–small cell lung cancer and a poor performance status. to learn more about the benefits of immunotherapy in those with a poor performance status.
Siran M. Koroukian-Hajinazarian, PhD, Associate Professor of Population and Quantitative Health Sciences at Case Western Reserve University School of Medicine. Dr. Koroukian-Hajinazarian will conduct a retrospective cohort study to evaluate patterns of genomic testing and targeted therapy in patients with metastatic
colorectal cancer to assess the impact of patient and practice characteristics on receipt of these services.
Ying Liu, MD, PhD, Assistant Professor of Surgery at Washington University School of Medicine in St. Louis. Dr. Liu will conduct a retrospective cohort study to examine the differences between Black and European American patients with metastatic breast cancer in treatment patterns and adherence to therapy. Dr. Liu will also assess the roles of sociodemographic and clinical factors in observed differences in treatment patterns, as well as disease progression and patient survival. 
---