The Radium Era: 1916–1945
Electron-Charged Ray for Cancer, Vienna: 1938

The text and photograph on this page are excerpted from a four-volume series of books titled Oncology: Tumors & Treatment, A Photographic History, by Stanley B. Burns, MD, FACS, and Elizabeth A. Burns. The photo below is from the volume titled "The Radium Era: 1916–1945." The photograph appears courtesy of Stanley B. Burns, MD, and The Burns Archive. To view additional photos from this series of books, visit burnsarchive.com.
In the 1930s, in a concerted effort to provide more effective cancer therapy, a wide variety of physical and chemical devices were invented. Some therapies, such as ultrasound, microwave, and diathermy, offered some success, whereas others were dead ends. It was obvious to physicists that the electron was an important key to the x-ray, radium, and radioactivity.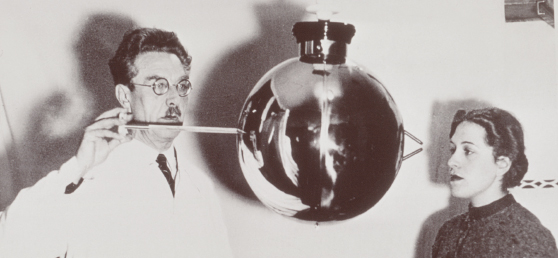 The main principles responsible for the effect of various forms of radiation were the change in atomic particle charge and other electron manipulations. The supervoltage linear accelerators and radiotherapy devices depended on electron movement and charge. Viennese scientists Anton Zeeman and Erwin Fuhrer developed a new device to deliver an electron charge into a tumor. This supercharged sphere could shoot electron particles into the neoplasm and had provided good results with a variety of tumors.
In this photograph, Anton Zeeman demonstrates his machine as a new method of treatment. No record of its ultimate therapeutic effect is recorded. Photographs were often used to show the public that scientists were working to fight cancer and that science would provide the miracle therapy for success, as it had done for numerous diseases. ■
---