NCI Boosts University of Hawai'i Cancer Center Support to $8.4M

The National Cancer Institute (NCI) has increased monetary support to the University of Hawai'i (UH) Cancer Center from $5.7 million to $8.4 million and has extended the term of the current NCI designation by an additional year, until July 2022. The funding supports the core research infrastructure at the UH Cancer Center for conducting studies targeted at reducing the burden of cancer for the people of Hawai'i and the Pacific.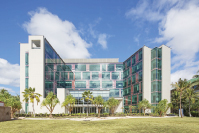 In addition to basic laboratory and population-based research, the center conducts cancer prevention and control research and provides access to clinical trials for most of the patients in the state in collaboration with clinical partners in the Hawai'i Cancer Consortium. Among the highlights noted by NCI at the time of the last review in 2018, the community outreach and engagement component of the UH Cancer Center was rated as "exceptional," the highest rating possible.
The UH Cancer Center has 69 full-time faculty members based at the center and at the John A. Burns School of Medicine; the Office of Public Health; and the Departments of Chemistry and Human Nutrition, Food and Animal Sciences at UH Mānoa, and UH Hilo's Department of Pharmaceutical Sciences in the Daniel K. Inouye College of Pharmacy. Overall, the center's faculty bring in approximately $41 million in federal and private research support annually. In 2018, more than 3,500 people in Hawai'i enrolled in some type of clinical research study directed by UH Cancer Center faculty. ■
---