Institute of Cancer Research Annual Science and Medical Image Competition

Each year, investigators from the Institute of Cancer Research (ICR), London, and the Royal Marsden NHS Trust collaborate to showcase images from their research to highlight the often unseen beauty of science. Maxine Lam, PhD,  a postdoctoral training fellow at ICR captured an image of a cancer cell dividing itself and invading healthy tissue through blood vessels (Figure 1).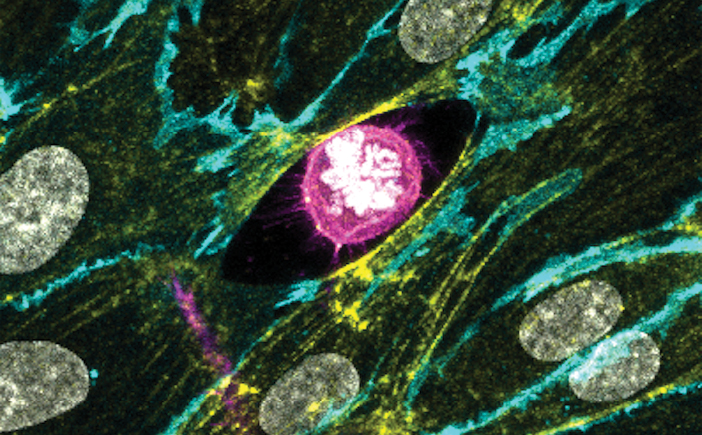 FIGURE 1: The winning image by Dr. Maxine Lam shows a replicating cancer cell as it invades through blood vessels.
Dr. Lam's picture, titled "Divide and Conquer," won the main prize in the 2018 competition. Recorded using confocal microscopy, the image shows a cancer cell, in pink, invading through a layer of blood vessel cells, in yellow and cyan. The cancer cell has created a gap in the layer of blood vessel cells as it invades. Within the pink cancer cell, white rods of condensed DNA reveal that, even as the cell is preparing to invade, it is already dividing.
The Public's Favorite
For the  first time, last year's competition also included a public vote in which social media followers chose their favorite image from a shortlist created by the panel of judges. A time-lapse image of a breast cancer cell sensing its environment during the process of metastasis, recorded by PhD student Patricia Pascual Vargas of ICR's Dynamical Cell Systems Team, won this honor. Taken using a total internal reflection fluorescence microscope, Ms. Vargas's image shows an aggressive type of triple-negative breast cancer cell sensing its environment by making contact through focal adhesions (Figure 2).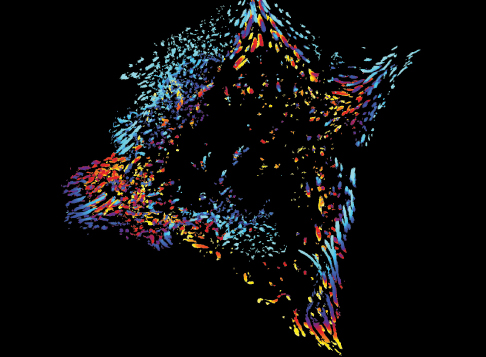 FIGURE 2: The winner of the competition's public vote, Patricia Pascual Vargas' photograph, is a time-lapse image of a breast cancer cell on the move. The yellow and red lines represent shorter adhesion times, indicating that the cell is moving down and to the left.
Honorable Mentions
The following images were also included on the judges' shortlist:
David Mansfield, Higher Scientific Officer, Targeted Therapy Team, Division of Radiotherapy and Imaging, ICR, was recognized for his visualization of tumor cells before and after radiotherapy (Figure 3).

Members of multiple teams from ICR's Clinical Studies Division submitted a multiplex immunohistochemistry picture of the liver biopsy of a patient's metastatic cholangiocarcinoma (Figure 4).
Parames Thavasu, Scientific Officer, Clinical Pharmacology Adaptive Therapy Group, Division of Cancer Therapeutics, ICR, recorded the reactions of triple-negative breast cancer cells to drug treatments (Figure 5).
Rebecca Marlow, PhD, Breast Cancer Now Toby Robins Research Centre, ICR, photographed proliferating cells in a triple-negative breast cancer tumor organoid (Figure 6).
The judges for the competition included Nandita deSouza, MD, Professor in Translational Imaging and Co-Director of the Cancer Research UK Clinical Magnetic Resonance Research Group, ICR; Ross Lydall, Health Editor of the Evening Standard newspaper; Nicholas J. van As, MD, Medical Director of The Royal Marsden NHS Foundation Trust; Sabrina Taner, PhD, Biomedical Image Acquisitions and Picture Researcher at the Wellcome Trust; Catherine Graham, Head of Brand and Creative at the ICR; and Rose Wu, Internal Communications Manager at the ICR.
For information about the annual competition, visit icr.ac.uk. ■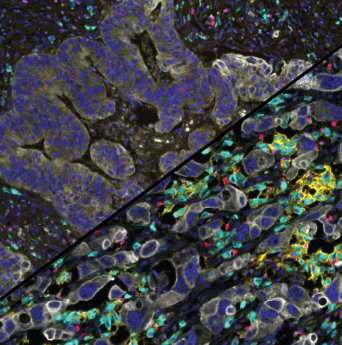 FIGURE 3: Dr. David Mansfield's photograph of a tumor before (top) and after (bottom) radiotherapy. Colored immune cells have moved in to clear out the white tumor cells left behind after treatment.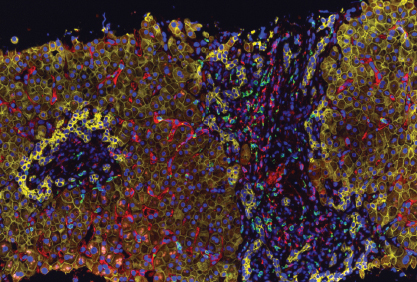 FIGURE 4: This image by multiple members of the Clinical Studies Division shows immune cell populations in a liver biopsy. Liver cells, in yellow, are being infiltrated by T cells in red and green.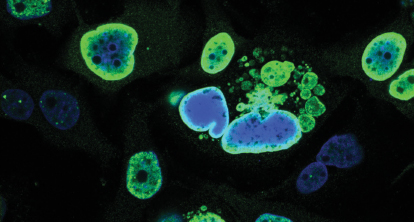 FIGURE 5: Parames Thavasu's photograph shows exploding nuclei of triplenegative breast cancer cells after treatment with a drug that targets DNAdamage repair mechanisms.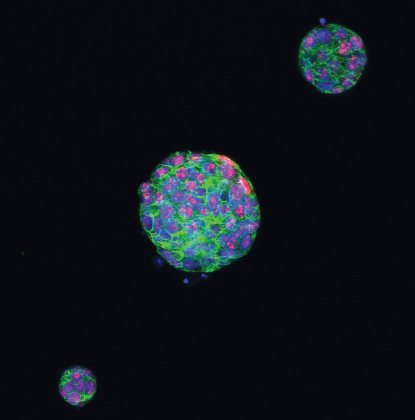 FIGURE 6: Dr. Rebecca Marlow's image shows proliferating cells in a tumor organoid of triple-negative breast cancer from tissue samples donated by patients. The nuclei of cells are marked in blue, the cytoskeleton is green, and proliferating cells are pink.
---