Echinacea

The ASCO Post's Integrative Oncology series is intended to facilitate the availability of evidence-based information on integrative and complementary therapies sometimes used by patients with cancer. In this installment, Yen Nien Hou, PharmD, DipIOM, LAc, explores the potential health benefits of the popular supplement echinacea, which has exhibited anti-inflammatory, anxiolytic, cytotoxic, and immune-modulating effects, although available data on its effectiveness in the treatment of influenza and cancer are not definitive.

Yen Nien Hou, PharmD, DipIOM, LAc
Scientific Names: Echinacea purpurea
Common Names: Coneflower, purple coneflower, Black Sampson, Sampson Root, Sonnenhut, Igelkopfwurzel
Overview
Echinacea purpurea is an herbaceous flowering plant prevalent in the United States and southern Canada. Extracts obtained from its roots and aerial parts are widely used in Europe and the United States as nonspecific immunostimulants, to prevent or treat the common cold and influenza as well as to treat infections and wounds. They are marketed as dietary supplements in the form of teas, juice, extracts, capsules, and tablets, as well as in preparations for topical use. However, these products can differ in composition, chiefly due to the use of different species, extraction methods, or the addition of other components.
The potential health benefits of echinacea have been assessed in several randomized clinical trials. Findings show that echinacea is ineffective in preventing the common cold, but it may be useful in the treatment of influenza.

Jun J. Mao, MD, MSCE
The Science
Preclinical studies have shown that echinacea exerts immunostimulatory and anti-inflammatory effects,1 inactivates influenza viruses,2 stimulates erythropoiesis,3 produces anxiolytic effects,4 and has wound-healing5 as well as anticancer properties.6
GUEST EDITOR
Integrative Oncology is guest edited by Jun J. Mao, MD, MSCE, Laurance S. Rockefeller Chair in Integrative Medicine and Chief of Integrative Medicine Service at Memorial Sloan Kettering Cancer Center, New York.

In a randomized trial, 437 subjects received prophylaxis (treatment with echinacea from study day 7, before rhinovirus challenge, through study day 5) or treatment either with placebo or three different echinacea extracts (virus challenge through study day 5, 3 times daily as a 1.5-mL tincture containing the equivalent of 300 mg of echinacea root). Researchers failed to find statistically significant effects of echinacea on the rates of infection or on the severity of symptoms (P values for difference in infection rate vs placebo, with the three extracts used, were .57, .46, and .22 respectively).7

In another randomized study involving 58 individuals, prophylactic treatment with echinacea (3 capsules, twice daily for 8 weeks during winter months) did not have a significant impact on the frequency of upper respiratory tract symptoms compared with placebo. Those in the echinacea group reported 9 sick days per person, whereas the placebo group reported 14 sick days (P = .67).8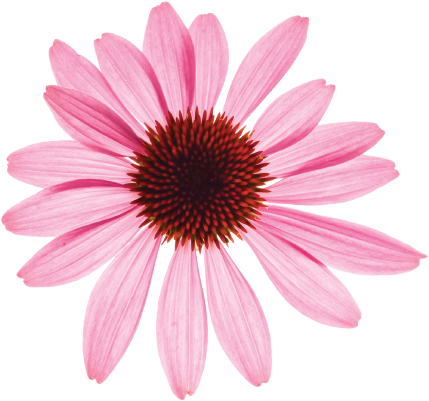 Furthermore, studies that evaluated echinacea for its ability to decrease the incidence and duration of common colds produced mixed results.9,10 Additional analyses concluded that is not beneficial for treating colds11 and that available evidence is not strong to recommend it for prophylaxis.12
Of interest, in a multicenter randomized study of patients with early influenza symptoms, an echinacea formulation (25 mL for 3 days followed by 15 mL for 7 days) was found equally effective as oseltamivir capsules (taken for 5 days, followed by 5 days of placebo, twice daily). Symptom resolution time was similar in both groups, but the incidence of complications was lower in the echinacea group than in those who took oseltamivir (2.46% vs 6.45%; P = .076).13
Mechanistic studies showed that the immune-modulating effects of echinacea include upregulation of interleukins (IL) 2 and 8, along with downregulation of the pro-inflammatory cytokines tumor necrosis factor (TNF) alpha and IL-6.14 Echinacea extracts were also found to stimulate phagocytosis, increase the mobility of leukocytes, stimulate TNF and IL-1 secretion from macrophages and lymphocytes, and improve respiratory activity.15,16 Cichoric acid, a bioactive compound, reduced telomerase activity and induced apoptosis via DNA fragmentation, caspase-9 activation, poly (ADP-ribose) polymerase cleavage, and downregulation of beta-catenin in human colon cancer cells.6
Adverse Effects
Common adverse events with echinacea include headache, dizziness, nausea, constipation, gastrointestinal upset, and rash.17-20 Rare reactions include dermatitis and anaphylaxis.20,21
In a 61-year-old man with non–small cell lung cancer receiving chemotherapy (cisplatin and etoposide), concurrent use of echinacea resulted in profound thrombocytopenia.22
Severe thrombotic thrombocytopenic purpura was reported in a 32-year-old after the patient took echinacea for upper respiratory tract infection symptoms.23
Consumption of echinacea exacerbated pemphigus vulgaris in a 55-year-old-man. Partial remission was regained after he was retreated with immunosuppressants.24
Chronic use of echinacea led to asymptomatic leukopenia in a 51-year-old woman. Her white blood cell count returned to normal levels 7 months after discontinuing echinacea.25
Consumption of high doses of echinacea resulted in severe acute hepatitis in a 45-year-old man.26
Severe acute liver failure was reported in a 2-year-old girl, likely secondary to echinacea toxicity.27
Hypereosinophilia was observed in a 58-year-old man after consuming echinacea, with symptoms improving after stopping its use.28
Acute cholestatic hepatitis has been reported in a 41-year-old man after consumption of echinacea to strengthen his immune system. His condition improved after cessation of echinacea.29
Eye irritation and conjunctivitis have been reported following the use of topical echinacea, with symptoms resolving after its use was discontinued.30
In a large population-based study, use of echinacea was associated with a slight increase in diastolic blood pressure.31
OF NOTE
Current evidence of echinacea's effectiveness is inconclusive. Physicians and patients should be aware of the adverse effects, especially hepatic, as well as the potential for interactions with some prescription drugs.

Herb-Drug Interactions
Cytochrome P450 substrates: Echinacea inhibited CYP3A432,33 and CYP2C834 in vitro and may affect the intracellular concentration of drugs metabolized by these enzymes.
Cytochrome P450 1A2 substrate drugs: Echinacea root extract reduced the oral clearance of substrates of CYP1A2 in healthy subjects.35
Tamoxifen: Concurrent use of echinacea resulted in subtherapeutic systemic exposure of prodrugs such as tamoxifen in vitro, thereby reducing their efficacy.33
Docetaxel: In a study of patients with cancer who were receiving docetaxel, echinacea at the recommended dosage did not significantly alter docetaxel's pharmacokinetics.36,37
Etoposide: Echinacea caused significant thrombocytopenia in a patient receiving etoposide, likely due to the inhibition of CYP3A4.22
P-glycoprotein substrate drugs: In vitro, echinacea inhibited P-glycoprotein activity,38 but the clinical significance of this finding is not known.
Oseltamivir: In vitro, echinacea decreased the formation of the active drug and may therefore reduce efficacy, but again, the clinical significance of this finding has yet to be determined.39
Summary
Echinacea is a popular supplement used to prevent and treat colds and influenza, but available data on its effectiveness are not definitive. In addition, quality control is a major issue because products may contain other related species, such as Echinacea angustifolia and Echinacea pallida. Although the U.S. Food and Drug Administration requires proper labeling of the species and the parts used, as well as the amount per tablet/capsule, many manufacturers do not comply with this requirement. Therefore, to ensure safety, it is better to choose products that have been independently tested by ConsumerLab.com or those that are verified by the United States Pharmacopeia. Most clinical studies suggest that echinacea is safe for up to 12 weeks, but it is not recommended for long-term use. ■
DISCLOSURE: Dr. Hou reported no conflicts of interest.
REFERENCES
1. Goey AK, Rosing H, Meijerman I, et al: The bioanalysis of the major Echinacea purpurea constituents dodeca-2E,4E,8Z,10E/Z-tetraenoic acid isobutylamides in human plasma using LC-MS/MS. J Chromatogr B Analyt Technol Biomed Life Sci 902:151-156, 2012.
2. Pleschka S, Stein M, Schoop R, et al: Anti-viral properties and mode of action of standardized Echinacea purpurea extract against highly pathogenic avian influenza virus (H5N1, H7N7) and swine-origin H1N1 (S-OIV). Virol J 6:197, 2009.
3. Goel V, Chang C, Slama JV, et al: Alkylamides of Echinacea purpurea stimulate alveolar macrophage function in normal rats. Int Immunopharmacol 2:381-387, 2002.
4. Haller J, Freund TF, Pelczer KG, et al: The anxiolytic potential and psychotropic side effects of an echinacea preparation in laboratory animals and healthy volunteers. Phytother Res 27:54-61, 2013.
5. Zhai Z, Haney DM, Wu L, et al: Alcohol extract of Echinacea pallida reverses stress-delayed wound healing in mice. Phytomedicine 16:669-678, 2009.
6. Tsai YL, Chiu CC, Yi-Fu Chen J, et al: Cytotoxic effects of Echinacea purpurea flower extracts and cichoric acid on human colon cancer cells through induction of apoptosis. J Ethnopharmacol 143:914-919, 2012.
7. Turner RB, Bauer R, Woelkart K, et al: An evaluation of Echinacea angustifolia in experimental rhinovirus infections. N Engl J Med 353:341-348, 2005.
8. O'Neil J, Hughes S, Lourie A, et al: Effects of echinacea on the frequency of upper respiratory tract symptoms: A randomized, double-blind, placebo-controlled trial. Ann Allergy Asthma Immunol 100:384-388, 2008.
9. Allan GM, Arroll B: Prevention and treatment of the common cold: Making sense of the evidence. CMAJ 186:190-199, 2014.
10. Fashner J, Ericson K, Werner S: Treatment of the common cold in children and adults. Am Fam Physician 86:153-159, 2012.
11. Karsch-Völk M, Barrett B, Kiefer D, et al: Echinacea for preventing and treating the common cold. Cochrane Database Syst Rev 2:Cd000530, 2014.
12. Karsch-Völk M, Barrett B, Linde K: Echinacea for preventing and treating the common cold. JAMA 313:618-619, 2015.
13. Raus K, Pleschka S, Klein P, et al: Effect of an echinacea-based hot drink versus oseltamivir in influenza treatment: A randomized, double-blind, double-dummy, multicenter, noninferiority clinical trial. Curr Ther Res Clin Exp 77:66-72, 2015.
14. Dapas B, Dall'Acqua S, Bulla R, et al: Immunomodulation mediated by a herbal syrup containing a standardized Echinacea root extract: A pilot study in healthy human subjects on cytokine gene expression. Phytomedicine 21:1406-1410, 2014.
15. Melchart D, Clemm C, Weber B, et al: Polysaccharides isolated from Echinacea purpurea herba cell cultures to counteract undesired effects of chemotherapy: A pilot study. Phytother Res 16:138-142, 2002.
16. Groom SN, Johns T, Oldfield PR: The potency of immunomodulatory herbs may be primarily dependent upon macrophage activation. J Med Food Mar 10:73-79, 2007.
17. Taylor JA, Weber W, Standish L, et al. Efficacy and safety of echinacea in treating upper respiratory tract infections in children: A randomized controlled trial. JAMA 290:2824-2830, 2003.
18. Giles JT, Palat CT 3rd, Chien SH, et al: Evaluation of echinacea for treatment of the common cold. Pharmacotherapy 20:690-697, 2000.
19. Grimm W, Müller HH: A randomized controlled trial of the effect of fluid extract of Echinacea purpurea on the incidence and severity of colds and respiratory infections. Am J Med 106:138-143, 1999.
20. Huntley AL, Thompson Coon J, Ernst E: The safety of herbal medicinal products derived from Echinacea species: A systematic review. Drug Saf 28:387-400, 2005.
21. Newall C, Anderson L, Phillipson J: Herbal Medicines: A Guide for Health-Care Professionals. London, UK, The Pharmaceutical Press, 1996.
22. Bossaer JB, Odle BL: Probable etoposide interaction with Echinacea. J Diet Suppl 9:90-95, 2012.
23. Liatsos G, Elefsiniotis I, Todorova R, et al: Severe thrombotic thrombocytopenic purpura induced or exacerbated by the immunostimulatory herb Echinacea. Am J Hematol 81:224, 2006.
24. Lee AN, Werth VP: Activation of autoimmunity following use of immunostimulatory herbal supplements. Arch Dermatol 140:723-727, 2004.
25. Kemp DE, Franco KN: Possible leukopenia associated with long-term use of echinacea. J Am Board Fam Pract 15:417-419, 2002.
26. Kocaman O, Hulagu S, Senturk O: Echinacea-induced severe acute hepatitis with features of cholestatic autoimmune hepatitis. Eur J Intern Med 19:148, 2008.
27. Lawrenson JA, Walls T, Day AS: Echinacea-induced acute liver failure in a child. J Paediatr Child Health 50:841, 2014.
28. Maskatia ZK, Baker K: Hypereosinophilia associated with echinacea use. South Med J 103:1173-1174, 2010.
29. Gabranis I, Koufakis T, Papakrivos I, et al: Echinacea-associated acute cholestatic hepatitis. J Postgrad Med 61:211-212, 2015.
30. Fraunfelder FW: Ocular side effects from herbal medicines and nutritional supplements. Am J Ophthalmol 138:639-647, 2004.
31. McCarty CA, Berg RL, Rottscheit CM, et al: The use of dietary supplements and their association with blood pressure in a large Midwestern cohort. BMC Complement Altern Med 13:339, 2013.
32. Scott GN, Elmer GW: Update on natural product: Drug interactions. Am J Health-Syst Pharm 59:339-347, 2002.
33. Grappe F, Nance G, Coward L, et al: In vitro inhibitory effects of herbal supplements on tamoxifen and irinotecan metabolism. Drug Metabol Drug Interact 29:269-279, 2014.
34. Muthiah YD, Ong CE, Sulaiman SA, et al: Inhibition of human cytochrome P450 2c8-catalyzed amodiaquine N-desethylation: Effect of five traditionally and commonly used herbs. Pharmacognosy Res 8:292-297, 2016.
35. Gorski JC, Huang SM, Pinto A, et al: The effect of echinacea (Echinacea purpurea root) on cytochrome P450 activity in vivo. Clin Pharmacol Ther 75:89-100, 2004.
36. Goey AK, Meijerman I, Rosing H, et al: The effect of Echinacea purpurea on the pharmacokinetics of docetaxel. Br J Clin Pharmacol 76:467-474, 2013.
37. Mooiman KD, Maas-Bakker RF, Hendrikx JJ, et al: The effect of complementary and alternative medicines on CYP3A4-mediated metabolism of three different substrates: 7-benzyloxy-4-trifluoromethyl-coumarin, midazolam and docetaxel. J Pharm Pharmacol 66:865-874, 2014.
38. Meng Q, Liu K: Pharmacokinetic interactions between herbal medicines and prescribed drugs: Focus on drug metabolic enzymes and transporters. Curr Drug Metab 15:791-807, 2014.
39. Liu R, Tam TW, Mao J, et al: The effect of natural health products and traditional medicines on the activity of human hepatic microsomal-mediated metabolism of oseltamivir. J Pharm Pharm Sci 13:43-55, 2010.
---