The Story of a Notorious Cluster of Childhood Cancers

BOOKMARK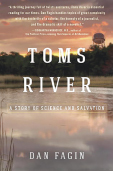 Title: Toms River: A Story of Science and Salvation
Author: Dan Fagin
Publisher: Random House
Original publication date: March 2013
Price: $28.00, hardcover, 560 pages


The Toms River emerges in the Pine Barrens of northern Ocean County, New Jersey, and zigzags through wetlands, emptying into Barnegat Bay, an inlet of the Atlantic Ocean. Nestled on the river's shoreline is the Township of Toms River, a middle-class community with a population of about 91,000 inhabitants, considered one of the safest places to live in America. However, in the mid-1990s, federal environmental agencies identified an increased incidence of childhood cancers in Toms River, attributing it to contamination from the Toms River Chemical Corporation. This human and science drama was the subject of the Pulitzer Prize–winning book Toms River: A Story of Science and Salvation.
One of Many Cancer Clusters
Organized in 4 sections and 24 chapters, Toms River is an exhaustively researched and well-written book. The author, Dan Fagin, is Associate Professor of Journalism and Director of the Science, Health, and Environmental Reporting Program at New York University. Mr. Fagin was also an environmental writer for Newsday and has penned many well-regarded articles on cancer epidemiology. Despite his heavy journalistic street credentials, Mr. Fagin is biting off a lot to chew, digest, and make a case for. Although Toms River was the epicenter of a decades-long drama, culminating in 2001 with one of the largest legal settlements in toxic-dumping history, the definitive correlation between environmental factors and cancer remains difficult to prove.
The author tells a compelling story of rampant pollution by chemical companies that used Toms River as their private toxic waste–dumping grounds and an inexcusable lack of environmental oversight that will stir emotions among readers. Burying thousands of leaky 50-gallon drums in open pits that discharged millions of gallons of acid-laced waste water into the namesake river that the town is situated on certainly paints a desperate scenario of corporate greed and disregard for human safety. He also tells the riveting stories of scientists and doctors who identified pollutants as a potential cause for the Toms River cancer cluster.
Tough to Link Cancer to Pollutants
Mr. Fagin opens with Toms River resident Michael Gillick, a fully grown man who stands 4 feet 6 inches tall and weighs less than 100 pounds. At 3 months old, he was diagnosed with advanced neuroblastoma. Doctors told his parents that he had a 50-50 chance to survive. He beat the odds, but at a stiff price. Tumors cost him the use of his left eye and ear, ruined his balance, and shifted the location of his internal organs. The use of steroids and chemotherapy stunted his growth and dissolved his bones to the point in which mere walking was painful. And his parents, Michael and Linda Gillick, after more than 30 years, knew why their son had developed cancer.
"They had fought the fears and delusions of their own neighbors and they had been vindicated…. It was just a matter of biding time, and then the whole truth would come out at last. They could wait a little longer for that," writes Mr. Fagin, in a story that gives readers people to root for and to root against. However, the central problem of this medical drama is that there are no documented lifestyle-related or environmental causes of neuroblastomas at this time.
Emotion Trumps Data
In the 1960s, biostatisticians had turned cancer cluster studies into a newly formed scientific endeavor. However, much of this research, although provocative, was also hopelessly ambiguous and remains so to this day. And as one reads this book, it becomes evident how human grief and a search for an answer can drive a cause and effect that simply doesn't exist.
There have been several high-profile cancer cluster stories that have been debunked. Most notably, the Erin Brockovich incident, in which hexavalent chromium in the water supply of a small California town was blamed for causing cancer, resulted in a huge financial settlement and a feature film (starring Julia Roberts). Studies later showed that the cancer rate was no greater than that of the general population; in fact, it was actually slightly lower.
In cases like 911 or Toms River, connecting the toxic dots to the formation of tumors is not a straight line, and the answers are as murky as the polluted water itself.

—




Tweet this quote



The toxic exposure of 911 workers who have developed cancers is another compelling story that underlines a great American tragedy. As a nation we honor and sympathize those who served in the direct aftermath of the terrorist attack that resulted in one of the largest mass of toxic waste in history. It seemed plausible to connect later cancer diagnoses with the site itself. However, nationally regarded cancer statistician, Donald Berry, PhD, of The University of Texas MD Anderson Cancer Center, put that grave issue into frank perspective during an interview in The ASCO Post some years ago: "The question is whether the incidence of cancer among 911 workers is greater than it would be if 911 never occurred. I sympathize with the unfortunate exposed to toxins created by 911 who got cancer, just as I do with all cancer patients. But their cancers are about as likely to have been caused by 911 as were the cancers of Nebraskans who watched the aftermath of 911 on TV."
Fighting the Good Fight
In the central part of Toms River, there were 14 childhood cancers in which 9 or 10 would have been average. Each one of those cancers represents a human tragedy, and Mr. Fagin does an admirable job in bringing their stories to life on the pages of his award-wining book. There is much to admire about Toms River, first and foremost the power of the story telling and the assiduous research and documentation.
The parents in this book are the heroes, as they fight against a reluctant and deceitful government bureaucracy. In one of the book's final chapters, "Blood Work," the parents are pinning their hopes on three types of case-control studies, only to find they were so weighed down in scientific complexities that they were unlikely to reveal meaningful results. And although the book concludes that the Toms River cancer cluster was caused by toxic exposure, hard science disagrees.
We know that persistent smoking and exposure to asbestos cause lung disease. But in cases like 911 or Toms River, connecting the toxic dots to the formation of tumors is not a straight line, and the answers are as murky as the polluted water itself. That said, the book's vital message about battling environmental polluters rings loud and clear. Toms River is recommended for readers of The ASCO Post. ■
---