Reishi Mushroom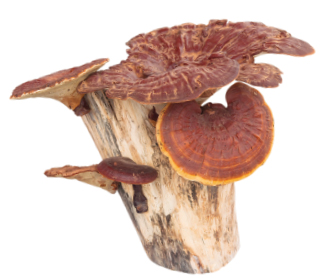 The ASCO Post's Integrative Oncology series is intended to facilitate the availability of evidence-based information on integrative and complementary therapies sometimes used by patients with cancer. Ting Bao, MD, DABMA, MS, and Jyothirmai Gubili, MS, present information on the use of reishi mushroom by cancer survivors to increase energy and stimulate the immune system. Although some small studies support its use for these indications, further studies are needed to confirm these benefits.

Ting Bao, MD, DABMA, MS

Jyothirmai Gubili, MS
Dr. Bao is Director, Integrative Breast Oncology, Memorial Sloan Kettering Cancer Center, New York. Ms. Gubili is Editor, Integrative Medicine, Memorial Sloan Kettering Cancer Center, New York.
GUEST EDITOR

Jun J. Mao, MD, MSCE
Integrative Oncology is guest edited by Jun J. Mao, MD, MSCE, Laurance S. Rockefeller Chair in Integrative Medicine and Chief, Integrative Medicine Service, Memorial Sloan Kettering Cancer Center, New York.
Scientific Name: Ganoderma lucidum
Common Names: Ling zhi, lin zi, mushroom of immortality
Overview
A fungus,reishi mushroom is an important component of the traditional medical systems of China, Japan, Korea, and other Asian countries. It is used to increase energy, stimulate the immune system, and promote health.
Reishi has become popular over the past few decades and is used to treat coronary artery disease, arthritis, hepatitis, hypertension, AIDS, and cancer. It is also widely recommended by herbalists to boost the immune system. Reishi is sold in the form of powders, capsules, tinctures, and teas, all of which are produced from the mycelia, spores, or fruiting bodies.
Current data from small studies suggest that reishi improves immune response in patients with cancer. However, there is no evidence of its efficacy as a first-line cancer treatment or to prolong long-term survival.
The Science
Pharmacologic studies have revealed beta-glucan polysaccharides and triterpenes to be the bioactive compounds in reishi mushroom. Reishi extracts demonstrate immunomodulatory,1 renoprotective,2 anti-inflammatory,3 and hepatoprotective4 effects. Clinical findings suggest its benefits in improving lower urinary tract symptoms in men,5 exerting mild antidiabetic effects, and improving dyslipidemia.6 However, randomized controlled trials do not support the use of reishi to mitigate cardiovascular risk factors associated with type 2 diabetes.7,8 A small study did not find any benefit of reishi spore powder for treating patients with Alzheimer's disease.9
Reishi has also been investigated for its potential anticancer effects. Preclinical findings revealed that it has chemopreventive ability,10 alleviates chemotherapy-induced nausea,11 increases the efficacy of radiotherapy,12 and promotes sensitivity of ovarian cancer cells to cisplatin.13 It may be useful in preventing cisplatin-induced nephrotoxicity as well.14
OF NOTE
Physicians should be aware of the popularity of reishi mushroom as an immunostimulant and its potential for interacting with certain prescription drugs, including anticoagulants and immunosuppressants.
In clinical studies, enhanced immune responses, including elevations in the plasma concentrations of interleukin 2 (IL-2), IL-6, and interferon-gamma as well as increased natural killer cell activity, were reported in patients with advanced-stage cancer (n = 34) after consumption of a reishi polysaccharide preparation (1,800 mg, 3 times daily, for 12 weeks).15 A reishi polysaccharide extract was shown to reverse suppression of perforin and granzyme B expression in lymphocytes of patients with lung cancer.16
In another study of patients with colorectal adenomas, a water-soluble reishi extract (1.5 g/d, taken for 12 months) decreased the number (P < .01), and total size (P < .01) of adenomas in the intervention group (n = 96) compared with the controls (n = 102).17 And remission of hepatocellular carcinoma has been reported in three cases in a single study.18
However, a reishi mushroom extract was found to have toxic effects in leukocytes in vitro.19 Patients receiving treatment for gastrointestinal cancer had elevated levels of CA72-4, a serum tumor marker, after ingesting supplements containing reishi spores.8 Further research is needed to determine reishi's safety as an adjunctive cancer treatment.
Adverse Effects
Nausea,8 insomnia,20 and hepatotoxicity after consuming powdered reishi mushroom21,22 have been reported.
Chronic diarrhea was reported in a 49-year-old man with non-Hodgkin lymphoma after prolonged use of a powdered extract of reishi -mushroom.23
Herb-Drug Interactions
Anticoagulants/antiplatelets: Reishi may increase the risk of bleeding.24
Immunosuppressants: Reishi may enhance immune response.15
Chemotherapeutic agents: Reishi may increase plasma antioxidant capacity and may interact with chemotherapeutic agents that rely on free radicals.25
Cytochrome P450 substrates: Reishi polysaccharides inhibit CYP2E1, CYP1A2, and CYP3A and may cause accumulation of drugs metabolized by these enzymes, thereby increasing the risk of their side effects.26
Herb-Laboratory Interactions
Reishi extracts may prolong international normalized ratio, prothrombin time, and activated partial thromboplastin time.24
Reishi mushroom spore powder may elevate the level of glycoprotein CA72-4. High levels of CA72-4 have been reported in several malignancies, including gastrointestinal, ovarian, endometrial, and lung cancers.27
Summary
Reishi mushroom and its extracts are popular dietary supplements often used by cancer survivors to increase energy and stimulate immune system. These claims are supported by a number of small studies. However, patients and their care teams should be aware of the possible drug-herb interaction via cytochrome P450, drug-lab interaction via elevation of CA72-4, and potential toxicities. Further studies with reishi mushroom are needed. ■
DISCLOSURE: Dr. Bao and Ms. Gubili reported no conflicts of interest.
REFERENCES
1. Chen HS, Tsai YF, Lin S, et al: Studies on the immuno-modulating and anti-tumor activities of Ganoderma lucidum (Reishi) polysaccharides. Bioorg Med Chem 12:5595-5601, 2004.
2. Shieh YH, Liu CF, Huang YK, et al: Evaluation of the hepatic and renal-protective effects of Ganoderma lucidum in mice. Am J Chin Med 29:501-507, 2001.
3. Joseph S, Sabulal B, George V, et al: Antitumor and anti-inflammatory activities of polysaccharides isolated from Ganoderma lucidum. Acta Pharm 61:335-342, 2011.
4. Jin H, Jin F, Jin JX, et al: Protective effects of Ganoderma lucidum spore on cadmium hepatotoxicity in mice. Food Chem Toxicol 52:171-175, 2013.
5. Noguchi M, Kakuma T, Tomiyasu K, et al: Effect of an extract of Ganoderma lucidum in men with lower urinary tract symptoms: A double-blind, placebo-controlled randomized and dose-ranging study. Asian J Androl 10:651-658, 2008.
6. Chu TT, Benzie IF, Lam CW, et al: Study of potential cardioprotective effects of Ganoderma lucidum (Lingzhi): Results of a controlled human intervention trial. Br J Nutr 107:1017-1027, 2012.
7. Klupp NL, Chang D, Hawke F, et al: Ganoderma lucidum mushroom for the treatment of cardiovascular risk factors. Cochrane Database Syst Rev 2015;2:CD007259.
8. Klupp NL, Kiat H, Bensoussan A, et al: A double-blind, randomised, placebo-controlled trial of Ganoderma lucidum for the treatment of cardiovascular risk factors of metabolic syndrome. Sci Rep 6:29540, 2016.
9. Wang GH, Wang LH, Wang C, et al: Spore powder of Ganoderma lucidum for the treatment of Alzheimer disease: A pilot study. Medicine (Baltimore) 97:e0636, 2018.
10. Weng CJ, Yen GC: The in vitro and in vivo experimental evidences disclose the chemopreventive effects of Ganoderma lucidum on cancer invasion and metastasis. Clin Exp Metastasis 27:361-369, 2010.
11. Wang CZ, Basila D, Aung HH, et al: Effects of ganoderma lucidum extract on chemotherapy-induced nausea and vomiting in a rat model. Am J Chin Med 33:807-815, 2005.
12. Kim KC, Jun HJ, Kim JS, et al: Enhancement of radiation response with combined Ganoderma lucidum and Duchesnea chrysantha extracts in human leukemia HL-60 cells. Int J Mol Med 21:489-498, 2008.
13. Zhao S, Ye G, Fu G, et al: Ganoderma lucidum exerts anti-tumor effects on ovarian cancer cells and enhances their sensitivity to cisplatin. Int J Oncol 38:1319-1327, 2011.
14. Pillai TG, John M, Sara Thomas G: Prevention of cisplatin induced nephrotoxicity by terpenes isolated from Ganoderma lucidum occurring in Southern Parts of India. Exp Toxicol Pathol 63:157-160, 2011.
15. Gao Y, Zhou S, Jiang W, et al: Effects of ganopoly (a Ganoderma lucidum polysaccharide extract) on the immune functions in advanced-stage cancer patients. Immunol Invest 32:201-215, 2003.
16. Sun LX, Li WD, Lin ZB, et al: Protection against lung cancer patient plasma-induced lymphocyte suppression by Ganoderma lucidum polysaccharides. Cell Physiol Biochem 33:289-299, 2014.
17. Oka S, Tanaka S, Yoshida S, et al: A water-soluble extract from culture medium of Ganoderma lucidum mycelia suppresses the development of colorectal adenomas. Hiroshima J Med Sci 59:1-6, 2010.
18. Gordan JD, Chay WY, Kelley RK, et al: 'And what other medications are you taking?' J Clin Oncol 29:e288-e291, 2011.
19. Gill SK, Rieder MJ: Toxicity of a traditional Chinese medicine, Ganoderma lucidum, in children with cancer. Can J Clin Pharmacol 15:e275-e285, 2008.
20. Jin X, Ruiz Beguerie J, Sze DM, et al: Ganoderma lucidum (Reishi mushroom) for cancer treatment. Cochrane Database Syst Rev 2016;4:CD007731.
21. Yuen MF, Ip P, Ng WK, et al: Hepatotoxicity due to a formulation of Ganoderma lucidum (lingzhi). J Hepatol 41:686-687, 2004.
22. Wanmuang H, Leopairut J, Kositchaiwat C, et al: Fatal fulminant hepatitis associated with Ganoderma lucidum (Lingzhi) mushroom powder. J Med Assoc Thai 90:179-181, 2007.
23. Wanachiwanawin D, Piankijagum A, Chaiprasert A, et al: Ganoderma lucidum: A cause of pseudoparasitosis. Southeast Asian J Trop Med Public Health 37:1099-1102, 2006.
24. Tao J, Feng KY: Experimental and clinical studies on inhibitory effect of ganoderma lucidum on platelet aggregation. J Tongji Med Univ 10:240-243, 1990.
25. Wachtel-Galor S, Szeto YT, Tomlinson B, et al: Ganoderma lucidum ('Lingzhi'): Acute and short-term biomarker response to supplementation. Int J Food Sci Nutr 55:75-83, 2004.
26. Wang X, Zhao X, Li D, et al: Effects of Ganoderma lucidum polysaccharide on CYP2E1, CYP1A2 and CYP3A activities in BCG-immune hepatic injury in rats. Biol Pharm Bull 30:1702-1706, 2007.
27. Liang Y, He M, Fan X, et al: An abnormal elevation of serum CA72-4 by Ganoderma lucidum spore powder. Ann Clin Lab Sci 43:337-340, 2013.
---