A Celebrity Gadfly's Reflections on His Death and Other Things Meant to Irritate

BOOKMARK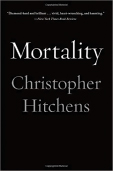 Title: Mortality
Author: Christopher Hitchens
Publisher: Twelve: Hachette Book Group
Original Publication Date: May 13, 2014
Price: $19.95, paperback, 128 pages


"There are no atheists in foxholes" is an aphorism used to contend that in times of extreme fear, such as during war or facing a life-threatening disease, all people hope for a higher power's attention, and therefore there are no atheists. One avowed atheist who remained true to his disbelief in a higher power and wrote eloquently about it in bestsellers such as God is Not Great: How Religion Poisons Everything and The Portable Atheist: Essential Readings for the Nonbeliever, was the late bombastic journalist-polemicist Christopher Hitchens.
Sudden Symptom Reveals Cancer
In June 2010, Mr. Hitchens was in New York on a book tour promoting his memoir Hitch-22 when he suffered what he believed to be a heart attack, which turned out to be esophageal cancer. A heavy smoker and drinker of Scotch whisky since his teenaged years, Mr. Hitchens candidly acknowledged the synergistic relationship between his lifestyle and his cancer, most notably in a series of wonderful articles in Vanity Fair titled "Topic of Cancer" and in Mortality, his final book before he died at The University of Texas MD Anderson Cancer Center in 2011.
As noted in previous reviews, there have been several fine cancer memoirs written by people dying of cancer—staring one's death in the face adduces particular pathos to a cancer memoir. The most heralded of this recent genre was When Breath Becomes Air by Paul Kalanithi, MD, a searing and poetic examination of the meaning of life in the face of early death, leaving behind family, career, and a bright future of medical and existential discovery. In contrast to the tone of most facing-death cancer memoirs, Mortality is starkly irreverent, in that its author doesn't search for deeper meaning, instead, manically tries to outrace—an impossible task—death itself, by writing furiously about how the experience of a cancer diagnosis changes our relationship with the world around us and how he fights to stave off being consumed by that diagnosis. And yes, readers familiar with Mr. Hitchens' rapier wit and sharp tongue won't be disappointed.
The Land of Malady
"I have more than once in my time woken up feeling like death. But nothing prepared me for the early morning in June when I came to consciousness feeling as if I were actually shackled to my own corpse. The whole cave of my chest and thorax seemed to have been hollowed out and then refilled with slow-drying cement…. I could faintly hear myself breathe but could not manage to inflate my lungs," writes Mr. Hitchens in the opening of Mortality.
From start to end, as Mr. Hitchens found himself "deported from the country of the well across the stark frontier that marks off the land of malady," this small, powerful book gives the reader not only a riveting account of metastatic esophageal cancer, from diagnosis to death, but it also devolves deep into the mores, politics, and misconceptions of terminal illness. And the author does so with both eyes open, refusing sentimentality or the solace of religion.
Special Doctor-Patient Relationship
During his ordeal, Mr. Hitchens was treated at MD Anderson with special attention from Francis Sellers Collins, MD, PhD, Director of the National Institutes of Health and noted for his seminal contributions to the Human Genome Project. The interactions are particularly poignant as Dr. Collins, an avowed atheist during graduate school, had a conversion to deep Christian faith after a conversation with a hospital patient led him to question his lack of religious views. He now describes himself as a serious Christian.
Although they never swayed each other's views on God, they became friends and mutual admirers. Dr. Collins said of Mr. Hitchens: "I will miss Christopher. I will miss the brilliant turn of phrase, the good-natured banter, the wry sideways smile when he was about to make a remark that would make me laugh out loud. No doubt he now knows the answer to the question of whether there is more to the spirit than just atoms and molecules. I hope he was surprised by the answer. I hope to hear him tell about it someday. He will tell it really well."
I will miss Christopher. I will miss the brilliant turn of phrase, the good-natured banter, the wry sideways smile when he was about to make a remark that would make me laugh out loud.

— Francis Sellers Collins, MD, PhD




Tweet this quote



Mr. Hitchens' lonely road to death was painfully short, as the cancer metastasized throughout his body, robbing him of one of his most cherished assets, his silky baritone voice. But what he feared most, becoming "imbecilic" from brain metastases, never occurred, and he was biting and acerbic to the end. He also wrote dearly about his wife and children as well as his legions of admirers and friends. The final chapter comprises hastily jotted notes, as Mr. Hitchens approached the end. They stress how earnest he was in living, how much he wanted to live until his last breath.
His wife, Carol Blue, a writer herself, describes in the book's coda how after his death she would walk around their large Washington, D.C., apartment pulling books off the shelf, always finding her husband's notes and scribbles: "At any time I can peruse our library or his notes and rediscover and recover him." Beautiful.
At the end of his remarkable book, he states: "Sons never escape from the shadows of their fathers. Nor daughters from their mothers. No one ever comes into his own…such is the cost of mortality. No person is whole. No person is free."
This book, along with many others in Mr. Hitchens' oeuvre, is highly recommended for The ASCO Post readers. ■
---