Sylvia
I didn't take care of Sylvia. She took care of me.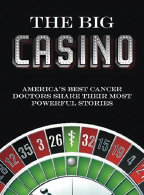 The following essay by Howard A. (Skip) Burris III, MD, is adapted from The Big Casino: America's Best Cancer Doctors Share Their Most Powerful Stories, which was coedited by Stan Winokur, MD, and Vincent Coppola and published in May 2014. The book is available on Amazon.com and thebigcasino.org.
I first met Sylvia in 1997. She was in her early 60s, vivacious, energetic, and much younger looking than her years. Five years earlier, she'd been diagnosed with breast cancer and had undergone surgery and hormonal therapy. Now, as is sometimes the case, what at first seemed to be a complaint of simple back pain proved not to be so simple after all. Sylvia's cancer had recurred and metastasized to her back and liver.

Howard A. (Skip) Burris III, MD
Sylvia was financially well off and had the means and opportunity to seek treatment anywhere she chose and had done so. In fact, two of the top doctors in the field, one at The University of Texas MD Anderson Cancer Center in Houston and the other at the University of California, Los Angeles, had told Sylvia that her disease was incurable.
But you never would have guessed her situation when she came through the door of the Sarah Cannon Cancer Center in Nashville, where I serve as Chief Medical Officer.
Sylvia was not in any panic to start treatment. She asked me a lot of great questions, and said she absolutely wanted to fight to stay alive for her daughter and her grandchildren. That journey, which would run 14 years, influenced the lives of so many people who came in contact with Sylvia and encompassed so many of the themes and virtues all of us aspire to but few of us achieve: courage, compassion, selflessness, determination, and love.
Advances in Therapy
My career focus is on investigational new drugs and offering promising new therapies to patients. Ironically, Sylvia had traveled 1,000 miles to Texas and 2,500 miles to California from her home in Tennessee just to be referred back to me. Sure, our center was closer to her home than the other two cancer centers, but I believe things happen for a reason.
The truth is, in 1997, we didn't have a lot of effective treatments for breast cancer. Trastuzumab (Herceptin) and other biologic and chemotherapy drugs, which have since revolutionized treatment of certain breast cancers, were still on the horizon. To get an accurate diagnosis of her tumor, we biopsied the lesion in her liver and found that Sylvia's disease was HER2-positive, suggesting a good clinical response to trastuzumab, which, at the time, was available only in clinical trials. We proceeded at full speed. Sylvia was both eager and anxious to get into the trial and went into the process in the spirit of, "If it doesn't help me, maybe it will help other people. Let's get going."
A Life of Tragedy and Triumphs
Over the next months, I got to know Sylvia well. Her life was filled with terrible tragedy, but you'd never guess it from looking at her. She'd had three children. Her eldest daughter had been killed in her teens in a skiing accident; her only son, who had struggled with obesity, died of complications of gastric bypass surgery; and her husband had passed away in his 50s from cardiac arrest. Three of the closest people in her life had all been taken away prematurely, but Sylvia never complained.
The good news is that Sylvia had an amazing response to trastuzumab. Her disease went away, but that was only the beginning of her journey. Sylvia came into the clinic, or rather bounced into the clinic, for treatment once every 3 weeks for the next 10 years and was always wearing a smile. I had to practically beat her to get her to tell me how she was feeling, but she had no trouble telling me what the other patients in the chemotherapy room were saying or how they were feeling, particularly the ones who were not doing as well as she was. Sylvia helped so many of those patients handle their disease.
Then came the miracle of the cakes. She'd arrive each time for her treatment carrying two amazing home-baked cakes: one for the patients in the chemotherapy suite and one for the nurses and me. She'd get up early in the morning to have the cakes fresh and ready to go. People thought she was a visitor, not a patient.
Why did she go to all the effort of preparing these cakes for us? Sylvia looked forward to seeing us and wanted us to look forward to seeing her. More important, she wanted to do something nice to brighten peoples' days.
Courage in the Face of Cancer
After 3 years of treatment, we stopped trastuzumab—the drug can potentially cause heart damage—and her disease came right back. We restarted treatment, stopped it again after 6 years, and her disease came roaring back, but Sylvia's spirit never flagged. I believe her amazing courage was there long before her illness, but her cancer brought it forward for all to see. How shallow today's cults of celebrity seem in the face of such true bravery.
Sylvia was one of those people you believed is surviving cancer to provide energy to the doctors, nurses, and other patients in the chemotherapy suite. No matter what new problem came up, Sylvia was able to handle it with a smile on her face.
Sylvia eventually developed ovarian cancer. The cancer was unconnected to her previous disease; it was just bad luck. Sylvia went through all the difficulties of treating her ovarian cancer. Twice, she was at a place where she could have given up, and twice she made the decision to keep going. Each time she rallied and was stronger because of the fight. Unfortunately, she passed away 4 years later. By then she was 75 and had lived a richer and fuller life than most of us ever will.
Giving to Others
During Sylvia's illness, several young doctors joined our practice. She taught them how to take care of patients, how to talk to patients, and how to love. Sylvia loved people and was never afraid to show it. She believed her life was a blessing. When I think about the tragedies she endured, and her will to fight her cancer and to live and do good things for others, I realize what an amazing, amazing lady she was. Her passing left a hole in the clinic for all of us.
At her funeral, I remember people telling stories of the things Sylvia had done for them when they were ill: "She was fighting cancer, but she took care of me when I had pneumonia"; "When I had my stroke…"; "When I had my heart problem…." Person after person stood up and recounted this woman's good deeds, which began, of course, long before Sylvia ever got sick.
We used to talk about Sylvia as an angel God sent to our clinic. For me, the message was clear: This is the reason you are doing this work and the reason you take care of your patients with all your heart and soul and skill.
But I didn't take care of Sylvia. She took care of me. ■
Dr. Burris is Executive Director of Drug Development and Chief Medical Officer at the Sarah Cannon Research Institute in Nashville, Tennessee.
---