An Expert on End-of-Life Care Shares Her Stories

"In the sufferer let me see only the human being."
So said Maimonides, the medieval Jewish philosopher and physician who espoused treating the patient rather than the illness, a philosophy that modern oncology had to relearn. This brief quote greets readers of a new book called Extreme Measures: Finding a Better Path to the End of Life, by Jessica Nutik Zitter, MD, and soon into this compelling book, readers will understand that the quote isn't literary window dressing; its message is the underpinning of the book. 
BOOKMARK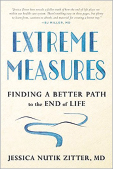 Title: Extreme Measures: Finding a Better Path to the End of Life
Author: Jessica Nutik Zitter, MD
Publisher: Avery
Publication date: February 2017
Price: $27.00, hardcover, 352 pages
Dr. Zitter is an expert in the medical experience of death and dying. She is board-certified in pulmonary critical care and palliative care medicine, a rare combination. She's also a skilled and well-published writer, contributing to The New York Times, The Huffington Post, The Atlantic, to name but a few. In addition, she was featured in Extremis, an award-winning documentary about end-of-life decision-making in the intensive care unit.
Over the course of her career, Dr. Zitter has worked in more than 20 hospitals, including some of the nation's best-known academic medical centers. Her book is not a textbook or a comprehensive methodology about how to improve our medical culture in end-of-life care. It is, instead, a personal reflection set forth in dramatic medical stories that try to make sense of and improve a very complex medical system that will ultimately affect all of us. 
Starting Point
The book begins during the second week of Dr. Zitter's medical internship. She vividly describes her first code blue call, as she and other interns race through the hospital halls to a room where a resident is doing chest compressions on an ashy-gray patient whose abdomen is deflated from years of malnutrition and disease. She writes: "His whole chest is breaking [under the compressions].… There is not an ounce of fat or muscle on his skeletal frame. The stench of kidney failure, acrid and vinegary, fills the room." 
Then her attending calls for her to take over. "I approach the body with horror [and] resume the compressions. Bone grinds against bone.… I concentrate on breathing only through my mouth as nausea creeps from my stomach into the back of my throat. I begin to feel dizzy." The resident says to give it another 8 minutes, which proves to be futile, and he says, "Let's call it." 
In two pages, Dr. Zitter brings the reader into a harrowing experience that is played over and over throughout hospitals across the country. It is gut-wrenching in its depiction of the life-and-death struggle, its finality, and ultimately, its routineness. But this episode of a patient dying alone in an anonymous hospital setting away from loved ones was the starting point of Dr. Zitter's conversion to palliative care medicine. 
Under the tutelage of a seasoned palliative care nurse, Dr. Zitter learned to step back from her "do everything" instinct. "I worked to tease out the most important requirements and then to honor them, which sometimes meant avoiding treatments that once were so reflexive," she writes—a sentence that should be contemplated in medical school curricula. 
Uncomfortable Truths
During Dr. Zitter's maturation from young intern to an expert in critical care and dying, she does a remarkable job of discussing uncomfortable truths about her profession, such as how doctors' inner emotions toward particular patients affect their caregiving. She points out that patient affinity can often affect the level of communication in end-of-life care: A young mother might get more medical empathy than an old patient dying of self-inflicted cirrhosis of the liver after decades of hard drinking. 
I worked to tease out the most important requirements and then to honor them, which sometimes meant avoiding treatments that once were so reflexive.

— Jessica Nutik Zitter, MD




Tweet this quote



Yes, she points out, beneath the white coat resides a flesh-and-blood human, but despite certain unavoidable frailties, most doctors serve with uncompromising fidelity to their profession and their patients. To that end, she also addresses physician burnout, the delicate issues surrounding do-not-resuscitate orders, and the extremely challenging factors involved in communicating terminal prognoses to patients and their loved ones, which, as she writes eloquently about, are further complicated by race, cultural values, and socioeconomic status. 
In chapter 7, "The Personal Toll," Dr. Zitter relives the story of her grandmother's tormented death in a hospice unit in Montreal. When Dr. Zitter arrived from the United States, she was shocked to see her grandmother delirious and fighting to breathe. "There was terror in her eyes, and every breath was a struggle.… I snapped into action," she writes. As she fought to get her grandmother needed morphine, she heard the whispers at the nurse's station. It is a common myth, she explains, that opioids shorten life in dying patients. "I was shocked to realize that these nurses thought I was trying to kill my grandmother."
Needed Perspective
This gripping medical drama exposes the dangerous myths and lack of information that still plague our modern medical system. Dr. Zitter's journey puts needed perspective on end-of-life care. There have been many books on this subject lately, but Extreme Measures stands out for its rare intimacy and the storytelling skills of the author. 
She adds more value to her wonderful book with an easy-to-read appendix, which instructs readers on how to avoid unnecessary suffering. This appendix is so good that it should be published as a handout booklet for patients and their caregivers. 
According to Dr. Zitter, in order to rebuild our broken health-care system, "we must begin by facing our fear of personal extinction and the resultant drive to find something, anything, to save us from our own deaths." This book is highly recommended for The ASCO Post readers. ■
---