A Deep and Incisive Look Into the Health-Care System

BOOKMARK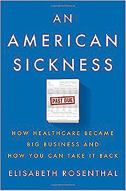 Title: An American Sickness: How Healthcare Became Big Business and How You Can Take It Back
Author: Elizabeth Rosenthal, MD
Publisher: Penguin House
Publication date: April 2017
Price: $28.00, hardcover; 416 pages
The seemingly impossible-to-cure maladies of our $3 trillion per year health-care system have been hyperanalyzed, fiercely debated, and voluminously written about by the country's leading public health experts, opinionated doctors, and policymakers on Capitol Hill. The Affordable Care Act extended coverage to many more people, but according to most health-care authorities, the system is still a dysfunctional ship sinking under the weight of untenable costs. 
A new book by Elizabeth Rosenthal, MD, An American Sickness: How Healthcare Became Big Business and How You Can Take It Back, has elbowed its way into the ongoing debate about how to fix our broken health-care system. Dr. Rosenthal, who earned her MD from Harvard Medical School, was a reporter for The New York Times for 22 years before becoming Editor-in-Chief of Kaiser Health News. 
She comes well equipped for this dense and highly informative book, but at times her passion gets the better of her. The foreword of her book begins: "In the past quarter century, the American medical system has stopped focusing on health or even science. Instead it attends more or less single-mindedly to its own profits." 
Reading that unfortunate opening line could turn readers off, at least those not wanting to spend time on a medical polemic, which this book is not. It is a highly readable, well-researched examination of our system, with thoughtful suggestions on how to fix its broken parts without discarding the good parts. 
The book's central complaint is that our hugely expensive medical care doesn't reliably deliver quality results. Dr. Rosenthal deftly breaks down this gargantuan system into its individual industries, hospitals, doctors, insurance companies, and drug manufacturers. And she exposes how the system is perversely incentivized to overtreat and overbill. She also weaves harrowing medical tales into the heady content, taking the reader inside the doctor-patient relationship and putting faces on the system itself. Her writing is crisp and unsentimental, giving the narrative a nice pace. 
History and Cost Analysis
An American Sickness is organized in two comprehensive sections. Part I ("History of the Present Illness and Review of Systems") details and charts the transformation of American medicine in little over a quarter century to what Dr. Rosenthal characterizes as "transformed from a caring endeavor to the most profitable industry in the United States—what many experts refer to as the medical-industrial complex." 
The child of an old-fashioned doctor, Dr. Rosenthal might be waxing a bit nostalgic here. There were plenty of woes in the good old days: inherent bias, lack of adequate pain control, more underserved patients with poor access to care, to name but a few. That said, a reader keen on our health-care system would be hard-pressed to find a better-drawn historical backdrop, replete with riveting anecdotal material to accent her points. 
Dr. Rosenthal deftly breaks down this gargantuan system into its individual industries, hospitals, doctors, insurance companies, and drug manufacturers. And she exposes how the system is perversely incentivized to overtreat and overbill.

—




Tweet this quote



Her explanation of the multiple costs of running a hospital will open eyes, as she digs deep into the minutiae that hide beneath the surface. Similarly, she dissects Medicare's ripe-for-fraud billing procedures and how they drive up the costs of care. 
Dr. Rosenthal will, however, get some pushback from her section on valuing a doctor's worth. "The average U.S. physician is more likely to be in America's 1% than a lawyer or manager. Doctor's salaries have been consistently rising since 2009, which isn't true of any other profession, not even hedge fund managers." The national average for the annual income of a U.S. primary care doctor is $168,463. But hedge fund managers? 
One of the most compelling sections in Part I is the sad story of leuprolide (Lupron), the hormone therapy used to treat prostate and breast cancers, as well as endometriosis and uterine fibroids. In the 1990s, the manufacturer's sales representatives enlisted urologists and gynecologists to perpetuate a huge reimbursement fraud scheme, which ended with a sordid whistleblowing event that exposed the underbelly of certain players in Big Pharma. It's a cautionary story, and Dr. Rosenthal does a good job telling it. 
Solutions Considered
Part II ("Diagnosis and Treatment: Prescriptions for Taking Back Our Healthcare") is where the rubber meets the road: The author has promised a lot, and for the most part, she delivers. One problem with health care is that patients are shielded from the costs and value of their care. To that end, Dr. Rosenthal skillfully walks the reader through costs and how patients can make sure they are getting the best, and necessary, treatment. She also spends time explaining the value of waiting and thinking before seeking treatment and the importance of being a well-informed health-care customer.
The section on insurance costs and selecting a coverage plan is the driest content in the book, and not even a writer as skilled as Dr. Rosenthal can turn HMO options and copays into a page-turning read. Nevertheless, it's vital information, and it's delivered in digestible chunks.
An American Sickness is an excellent book, perhaps even an important book. Dr. Rosenthal unveils the dysfunction and irrationality of our health-care system and how each attempt to address these issues has been thwarted by industries that put profit over patient. Her solutions make sense, and the reader will feel in good hands from cover to cover. 
One hole in this book was its failure to identify that our fee-for-service payment model is the crack cocaine of health care—the single biggest driver of waste in the system. (With regard to that waste, the RAND Corporation and other think tanks have calculated that up to one-third of all health-care services confer no benefit to patients.) But there is so much of value in An American Sickness that Dr. Rosenthal deserves a pass on that gripe. This book is highly recommended for readers of The ASCO Post. ■
---