Making a Difference in the Lives of Others
A Conversation With Quyen D. Chu, MD, MBA, FACS

Quyen D. Chu, MD, MBA, FACS, this year's recipient of ASCO's Humanitarian Award, is driven by the belief that all patients with cancer deserve the best care available, regardless of their socioeconomic status or where they live. His work is turning that belief into reality.

I don't believe in the theory of the self-made person. We have all gotten to where we are in life because other people have helped us out.

— Quyen D. Chu, MD, MBA, FACS




Tweet this quote



Quyen D. Chu, MD, MBA, FACS, this year's recipient of ASCO's Humanitarian Award, lives by the axiom that "One person can make a positive difference in the lives of others." Although the term has become cliché, the experiences in Dr. Chu's life and oncology career prove just how profound and enduring the truth of that statement is.
From the Vietnam War to the United States
Born on May 11, 1968, in Ho Chi Minh City (also known as Saigon) in Vietnam, just months after the Tet Offensive set off increased bombing raids throughout South Vietnam by North Vietnamese and Viet Cong forces—and escalated the United States' involvement in the war—members of Dr. Chu's immediate family, including his three sisters and parents, were eventually forced out of their homeland to escape persecution and perhaps death.
"My father was an officer in the South Vietnamese Army, fighting alongside the American forces. If we had stayed after the fall of Saigon in 1975, he would have been sent to a re-education camp, which means there was a high likelihood we would never see him again," revealed Dr. Chu. After fleeing to a refugee camp in the Philippines, Dr. Chu's family was able to secure sponsorship to immigrate to the United States from the First United Methodist Church of Tavares, and they settled in Tavares, Florida.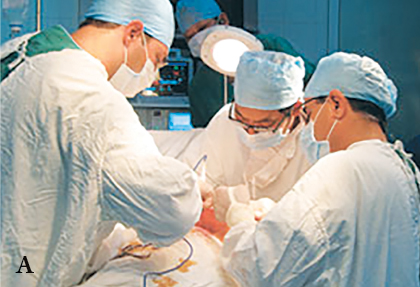 A: Dr. Chu (center) operates on a patient in Hanoi, Vietnam. Photographs courtesy of Dr. Chu.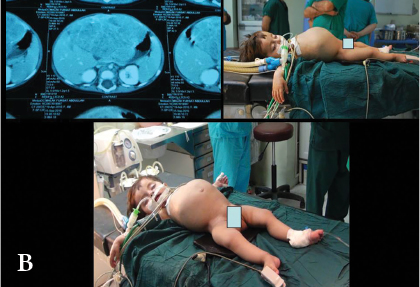 B: Dr. Chu and his team prepare a young child with liver cancer for surgery in the Kurdistan region of Iraq.
Soon after moving into their new home, on Thanksgiving Day in 1975, two policemen knocked on their door. Knowing little English and fearing he had inadvertently broken an American law and was being arrested, Dr. Chu's father, Trinh, profusely apologized to the officers, telling them he and his family "meant no disrespect for the law." But the officers weren't there to arrest Trinh Chu. Instead they wanted to welcome the family to the neighborhood and wish them a Happy Thanksgiving.
"When we saw the police car pull up to the house, we were all frightened. My sisters and I thought they were going to take away our parents, and we didn't know what would happen to us," said Dr. Chu. "But instead of arresting my father, they welcomed us to our new country and gave us a big turkey for the holiday. It was our first Thanksgiving in the United States, and we knew we were home."
Giving Back
Although he had originally set his sights on a career in engineering, a course in thermodynamics at Dartmouth College convinced Dr. Chu to switch his major to medicine. After graduating from Dartmouth in 1990, he enrolled in the Warren Alpert Medical School of Brown University in Providence, Rhode Island. It was there he decided to focus his medical career on surgical oncology.
"My mentor at Brown University was surgical oncologist Harold J. Wanebo, MD. His kindness and calm demeanor with patients with difficult surgical problems were something I wanted to emulate. After graduating from medical school in 1994, I did a yearlong research internship with Dr. Wanebo and honed my surgical skills," shared Dr. Chu.
After completing his residency training at St. Elizabeth's Medical Center in the Brighton section of Boston, Massachusetts, and his surgical oncology fellowship at Roswell Park Cancer Institute in Buffalo, New York, Dr. Chu moved to Shreveport, Louisiana, to accept an appointment as surgical oncologist at the Louisiana State University (LSU) Health Sciences Center. He is now Chief of Surgical Oncology, Vice Chair of Academic Affairs, and the Charles Knight, Sr. Endowed Professor of Surgery at the LSU Health Sciences Center.
He chose to work at the LSU Health Sciences Center because it provides care for indigent and uninsured patients with cancer and reinforces his belief that one person can make a difference in the lives of others. "I never turn away a patient because he or she can't afford care," said Dr. Chu. "At LSU/University Health, we take care of everyone irrespective of income status." The importance of helping others in dire circumstances is a lesson he learned well during his childhood as a war refugee, and he considers it his responsibility to repay the acts of kindness he has received throughout his life.
His determination to ensure that every patient with cancer receives the highest quality of care, regardless of ability to pay, is cemented in his belief that proper treatment for all patients with cancer produces similar outcomes. It's a theory he tested in a study he launched investigating the effect of race and ethnicity on the outcome of patients with operable breast cancer. The study evaluated outcome in a population with a low socioeconomic status and similar access to care and found that overall survival for the entire cohort was comparable to that of the national average.1
His steadfastness in providing outstanding care to all patients with cancer extends far beyond the borders of the United States. He has retained close ties with Vietnam, returning there annually to provide cancer care to patients. In 2010, he led the first International Vietnam-American Surgical Symposium in Vietnam, which is designed to improve communication and relationships with Vietnamese surgeons. In 2012, Dr. Chu was named Program Director of Oncology Vietnam for Health Volunteers Overseas, a partnership program with ASCO's International Cancer Corps, to develop oncology programs to train and provide clinical support to medical professionals in Hue, Vietnam.
His work in Vietnam did not go unnoticed. In 2013, President Barack Obama appointed Dr. Chu to the Board of Directors of the Vietnam Education Foundation, a federal organization developed to foster relations between Vietnam and the United States through educational exchanges.
Bringing Cancer Care to Low-Income Countries
Since then, Dr. Chu has traveled to other low- and middle-income countries, where access to cancer care is limited—and can even be dangerous. In addition to Vietnam, over the past 3 years, Dr. Chu has traveled to Nicaragua and Iraq to bring state-of-the-art surgical training in complex oncologic operations, including liver, esophageal, and pancreatic resections, to local oncologists. While traveling in Duhok, Iraq, Dr. Chu's driver warned his passengers they were just 50 miles from Mosul, a city now controlled by the Islamic State in Iraq and Syria (ISIS).
"It was frightening, but I was with a group of people that included my colleague Gazi Zibari, MD, FACS [Director of Transplantation Services and Director of Advanced Surgery at the Willis-Knighton Health System], who was born in Kurdistan, and has returned to Iraq many times on medical missions, so I felt secure," said Dr. Chu.
A Humbling Experience
Dr. Chu has authored or coauthored in excess of 170 peer-reviewed papers and abstracts; 19 book chapters; and led the effort to translate Surgical Care at the District Hospital, a surgical manual developed by the World Health Organization, into Vietnamese. He is also the co-editor of the volume Surgical Oncology: A Practical and Comprehensive Approach.
However, the highlight of his career, said Dr. Chu, was receiving ASCO's Humanitarian Award, which was presented during the opening session of the 2016 Annual Meeting and recognizes oncologists who personify ASCO's mission and values by exceeding expectations in providing outstanding patient care through innovative means or exceptional service or leadership in the United States or abroad. "I was very humbled to receive this prestigious award and felt very undeserving, because there are so many other people who have contributed so much more to the field of oncology," admitted Dr. Chu. "The award is especially meaningful to me because I don't work at a known major academic cancer institution, and I didn't think I was on anyone's radar, so I was sure they had the wrong person when I got the call from ASCO."
Dr. Chu scoffs at the notion he is a self-made person, appreciating and recognizing the contributions others have made to his success. "All along the way, so many people with great hearts have helped me and my family get to where we are now, and it is important to remember we did not do this alone. I don't believe in the theory of the self-made person. We have all gotten to where we are in life because other people have helped us out."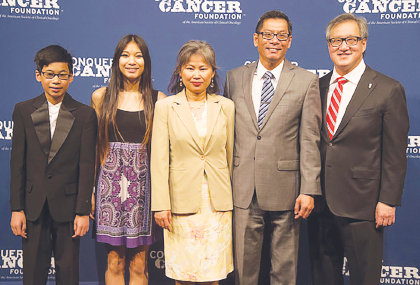 (Right to left): Peter Paul Yu, MD, FACP, FASCO, with Quyen D. Chu, MD, MBA, FACS, and Dr. Chu's family. Dr. Yu presented Dr. Chu with ASCO's Humanitarian Award during the Opening Session of the 2016 ASCO Annual Meeting. Photo ©ASCO/Phil McCarten 2016.
Dr. Chu and his wife, Trina, have two children, Thuy-Tien, 15, and Yen, 12. ■
Disclosure: Dr. Chu reported no potential conflicts of interest.
Reference
1. Chu QD, Smith MH, Williams M, et al: Race/ethnicity has no effect on outcome for breast cancer patients treated at an academic center with a public hospital. Cancer Epidemiol Biomarkers Prev 18:2157-2161, 2009.
---