Mount Sinai Honors James F. Holland, MD, FASCO, on the Occasion of His 90th Birthday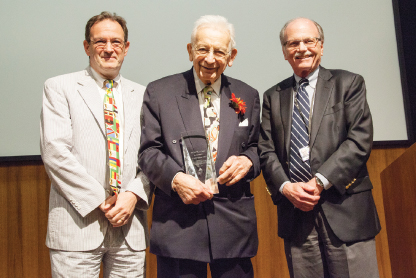 Left to right: Steven M. Holland, MD, James F. Holland, MD, FASCO, and Steven Burakoff, MD.
I hope that in the course of time, we can leave a legacy of having found the cause of human breast cancer, which will make a difference for women around the world.

—James F. Holland, MD
On May 14, 2015, over 160 colleagues, family members, friends, and patients of James F. ­Holland, MD, FASCO, gathered in the Goldwurm Auditorium in the Icahn School of Medicine at Mount Sinai Hospital in New York to honor Dr. Holland for the contributions he has made during his remarkable career in oncology and to celebrate his 90th birthday. Born on May 25, 1925, in Morristown, New Jersey, Dr. Holland's medical career spans nearly 7 decades, including a pivotal year from 1953 to 1954 spent at the National Cancer Institute, where he and colleagues began the first combination chemotherapy program in acute ­leukemia.
Dr. Holland's work with other early pioneers in oncology, including Emil Frei, MD, Emil J Freireich, MD, DSc, and Jean Bernard, MD, among others, as well as members of the Acute Leukemia Group B, transformed childhood acute lymphoblastic leukemia from an incurable disease into one with an over 80% survival rate and helped usher in the modern era of chemotherapy. Dr. Holland, along with his colleagues at Roswell Park Memorial Institute in Buffalo, New York, developed the "7 + 3" regimen of three daily injections of daunorubicin and 7 days of intravenous cytarabine in the treatment of acute myelocytic leukemia, which is now used worldwide. He also was the first to identify cisplatin as an effective treatment in testicular cancer and doxorubicin as a therapy for osteosarcoma.
In the early 1970s, Dr. Holland established the Department of Neoplastic Diseases at The Tisch Cancer Institute, Icahn School of Medicine at Mount Sinai, later serving as its Chairman, and is currently the Institute's Distinguished Professor of Neoplastic Diseases in the Department of Medicine. Dr. Holland splits his time between seeing patients several days a week and pursuing research he began 20 years ago in the human mammary tumor virus (present in 40% of American women's breast cancers), which is 90% to 95% homologous to the mouse mammary tumor virus.
A Lasting Legacy
During the 4-hour symposium honoring Dr. Holland, his colleagues and former students, including Larry ­Norton, MD, Deputy Physician-in-Chief for Breast Cancer Programs and Medical Director of the Evelyn H. Lauder Breast Center at Memorial Sloan Kettering Cancer Center, and Elizabeth J. Shpall, MD, Professor and Howard and Lee Smith Chair in Cancer Research and Deputy Chair in the Department of Stem Cell Transplantation at The University of Texas MD Anderson Cancer Center, spoke about the impact Dr. Holland has had on their careers.
Dr. Holland's son, Steven M. ­Holland, MD, Chief, Laboratory of Clinical Infectious Diseases and Chief, Immunopathogenesis Section at the National Institutes of Health, reminisced about his father's career accomplishments. He cited the number of research papers he has published—605, with his first published when he was just 23 and another coming out in June—and the textbook Cancer Medicine, which Dr. Holland coauthored with Emil Frei in 1973 and which is now in its eighth edition.1 He praised his father's dedication to his patients and to the advancement of oncology care.
"There are a lot of buzzwords in medicine, and you hear them in government and in academic environments: evidence-based, personalized, scientific," said Dr. Steven Holland. "But I like to think that what my Dad has been practicing all these years is really patient-based medicine…. I know that there are patients here today because of exactly that. And I know that there are trainees here who are here specifically because [of his emphasis on knowing] how to interact with patients."
He continued, "The big question I think he has been focused on—the big question that all of us deal with day-to-day—is how do we go from genotype to phenotype? What I think my Dad has taught me and all of you whom I've heard from is [to ask] how do we go from patients to principles, how do we take individual observations and generalize them to make sure that tomorrow is, in fact, a better day?"
A Lucky Man
In his remarks to the audience (see sidebar), Dr. Holland expressed his gratitude for having such a long and meaningful career and for the extraordinary people in his life, especially his wife Jimmie C. Holland, MD, Wayne E. Chapman Chair in Psychiatric Oncology at Memorial Sloan Kettering Cancer Center. ■
Reference
1. Hong WK, Bast RC Jr, Hait WN, et al (eds): Holland-Frei Cancer Medicine, ed 8. Shelton, Connecticut; People's Medical Publishing House-USA; 2010.
---
Related Articles
It is a humbling experience to reach 90 and to have a party and to have friends of the caliber I have. I think what keeps me going is the pleasant activities I have with Drs. Beatriz Pogo [MD, DMSc, Professor of Medicine, Hematology and Medical Oncology at Mount Sinai] and Stella Melana [PhD,...