St. Jude Receives First Group of Ukrainian Children With Cancer for Care in the United States

One month after Russia invaded Ukraine, on March 21, St. Jude Children's Research Hospital in Memphis welcomed four Ukrainian children with cancer to be treated in the United States. Two of the children are pictured in the photos below. The four children, aged 20 months to 8 years old, traveled to the hospital with 14 family members aboard a U.S. government–operated medical transport aircraft from Krakow, Poland, as part of a humanitarian effort through the St. Jude Global SAFER Ukraine program.

Carlos Rodriguez-Galindo, MD
In addition to receiving cancer care at St. Jude, the young patients are receiving trauma-informed psychosocial therapy to address their psychological, social, emotional, and cultural needs. The hospital is also developing school curriculum for the patients and their siblings.
More Work Ahead
Since these children arrived at St. Jude, four more young patients, ranging in age from 6 to 17, and 11 family members have arrived at the cancer center for treatment. As of the end of March, St. Jude has helped transport more than 730 Ukrainian children with cancer to medical centers in Europe through ­SAFER Ukraine.
"Our ability to quickly help so many children and their families in Ukraine is the work of many partners, individuals, and institutions, dedicated to the shared vision of improving the quality of health-care delivery and increasing survival rates of children with cancer and blood disorders worldwide," said Carlos Rodriguez-Galindo, MD, Director of St. Jude Global, in a statement. "While there is more work ahead, we are committed to doing as much as we can as swiftly as possible."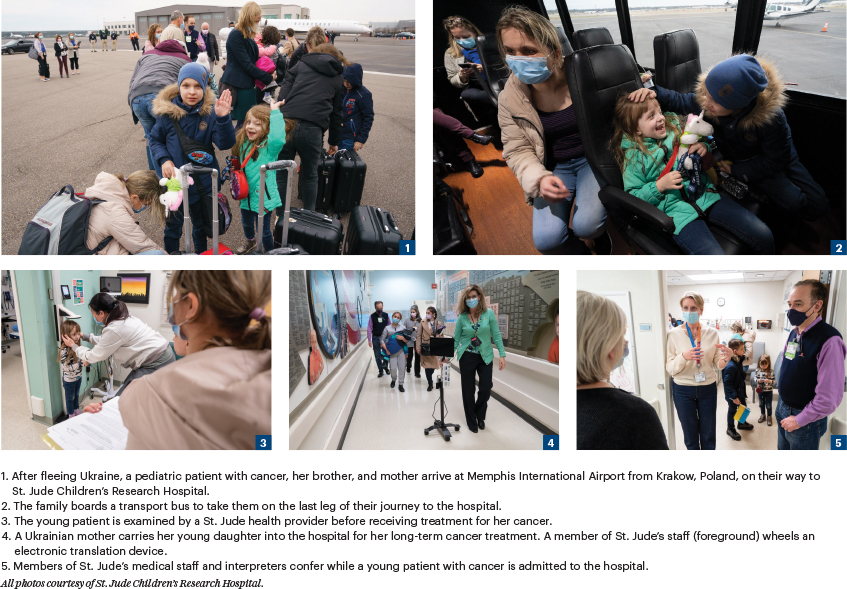 ---