Philip D. Greenberg, MD, FAACR, Voted AACR President-Elect for 2022–2023


Philip D. Greenberg, MD, FAACR
The members of the American Association for Cancer Research (AACR) have chosen Philip D. Greenberg, MD, FAACR, as the Association's President-Elect for 2022–2023. Dr. Greenberg is the Rona Jaffe Foundation Endowed Chair and Professor and Head of the Program in Immunology, Clinical Research Division, Fred Hutchinson Cancer Research Center, Seattle. He is also Professor of Medicine and Immunology at the University of Washington School of Medicine.
A pioneer in the field of cancer immunobiology, Dr. Greenberg has made groundbreaking contributions examining host T-cell responses to pathogenic viral infections. His work has led to insights into the understanding of the mechanisms by which T cells distinguish tumor cells from normal cells and has fueled the advancement of adoptive T-cell therapy approaches in various cancers, including leukemia. His research also showed that CD4-positive helper T cells work both collaboratively and independently of CD8-positive cytotoxic T cells to eradicate tumor cells. This work has since been applied to the development of treatments for late-stage melanoma and leukemia.
Newly Elected Members of the Board of Directors
The following cancer researchers have been elected to the Board of Directors for the 2022–2025 term:
John D. Carpten, PhD, FAACR, Professor and Chair for the Department of Translational Genomics and the Royce and Mary Trotter Chair in Cancer Research, Keck School of Medicine, University of Southern California (USC). He also serves as Associate Director of Basic Sciences for the USC Norris Comprehensive Cancer Center.
Christina Curtis, PhD, Associate Professor of Medicine and Genetics and Endowed Scholar at Stanford University School of Medicine; Director of Breast Cancer Translational Research and Co-Director of the Molecular Tumor Board at the Stanford Cancer Institute; and Chan Zuckerberg Biohub Investigator at Stanford
William Pao, MD, PhD, Chief Development Officer and Executive Vice President at Pfizer
Kimberly Stegmaier, MD, Professor of Pediatrics at Harvard Medical School; Ted Williams Investigator at Dana-Farber Cancer Institute (DFCI); Vice Chair for Pediatric Oncology Research, Co-Director of the Pediatric Hematologic Malignancy Program, and pediatric oncologist at DFCI and Boston Children's Hospital; and Institute Member of the Broad Institute, Massachusetts Institute of Technology
Robert H. Vonderheide, MD, DPhil, Director of the Abramson Cancer Center and Vice Dean and Vice President of Cancer Programs for the Perelman School of Medicine and the University of Pennsylvania Health System.
Newly Elected Members of the Nominating Committee
In addition, the following scientists were elected to the Nominating Committee:
Susan M. Domchek, MD, Executive Director, Basser Center for BRCA, and Basser Professor in Oncology, Abramson Cancer Center, University of Pennsylvania.
Elaine R. Mardis, PhD, FAACR, Co-Executive Director of The Steve and Cindy Rasmussen Institute for Genomic Medicine and The Steve and Cindy Rasmussen Nationwide Foundation Endowed Chair in Genomic Medicine at Nationwide Children's Hospital; and Professor of Pediatrics, The Ohio State University College of Medicine. She served as AACR President in 2019–2020.
Antoni Ribas, MD, PhD, FAACR, Professor of Medicine, Surgery, and Molecular and Medical Pharmacology; Director of the Tumor Immunology Program at the Jonsson Comprehensive Cancer Center; and Director of the Parker Institute for Cancer Immunotherapy Center at the University of California, Los Angeles. He served as AACR President in 2020–2021.
Sheila A. Stewart, PhD, Vice Chair and Gerty T. Cori Professor, Department of Cell Biology and Physiology and Professor, Department of Internal Medicine, Division of Molecular Oncology, Washington University School of Medicine; Co-Director, Molecular and Cellular Biology Program, and Associate Director for Basic Science, The Alvin J. Siteman Cancer Center at Barnes-Jewish Hospital and Washington University School of Medicine.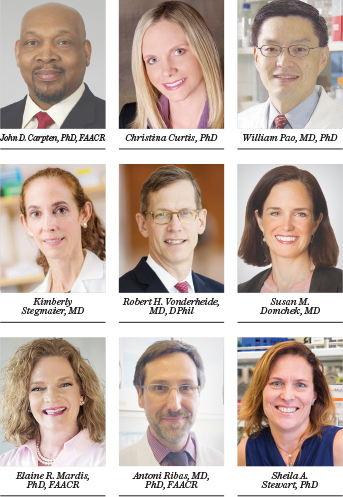 ---