Kathy Giusti, MBA; Nancy Pelosi; and Charles L. Sawyers, MD, FAACR, to Receive AACR Distinguished Public Service Awards

The American Association for Cancer Research (AACR) will present Distinguished Public Service Awards to three individuals whose extraordinary work has exemplified the AACR's mission to prevent and cure all cancers through research, education, communication, collaboration, science policy, advocacy, and funding for cancer research. The recipients are Kathy Giusti, MBA, founder and Chief Mission Officer of the Multiple Myeloma Research Foundation and Co-Chair of the Harvard Business School Kraft Precision Medicine Accelerator; Nancy Pelosi (D-California), Speaker of the U.S. House of Representatives; and Charles L. Sawyers, MD, FAACR, an investigator at the Howard Hughes Medical Institute who also holds the Marie-Josée and Henry R. Kravis Chair in Human Oncology and Pathogenesis and is Chair of the Human Oncology and Pathogenesis Program at Memorial Sloan Kettering Cancer Center.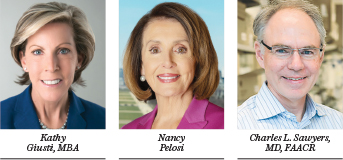 Ms. Giusti
A 25-year multiple myeloma survivor, Ms. Giusti is recognized as a pioneer in precision medicine, having seen its vast potential in oncology and other diseases. She uses her patient experience and business acumen to drive science faster with innovative models across patient registries, big data, clinical trials, and venture. Under Ms. Giusti's leadership, the Multiple Myeloma Research Foundation has raised more than $500 million to advance research and has played a significant role in bringing 15 new treatments to market and improving patient survival.
Ms. Pelosi
Ms. Pelosi (D-California) is being honored for her leadership in the House as a champion of science-related issues. Throughout her distinguished career, she has consistently advocated for robust, sustained, and predictable annual funding increases for the National Institutes of Health (NIH) and the National Cancer Institute. In addition, her support of the $10 billion the NIH received in 2010 as part of the American Recovery and Reinvestment Act was extremely important to funding the science necessary to improve public health and save lives all over the world.
Dr. Sawyers
The AACR Past President is being recognized for his dedication to advancing precision medicine by conceptualizing, then leading, AACR Project GENIE (Genomics Evidence Neoplasia Information Exchange) through the project's formative years. Dr. Sawyers envisioned the project as an international, pancancer registry of real-world data, built through data-sharing, with the goals of powering precision oncology and clinical decision-making while remaining dedicated to open science and collaboration. The most recent public data release contained nearly 113,000 sequenced samples from more than 104,000 patients treated at 19 participating institutions.
---