Free Practice Resource: Cancer.Net Patient Referral Cards From ASCO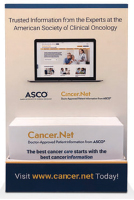 Patients and caregivers are always looking for trusted online information on cancer topics. Display these free referral cards in your practice to encourage your patients to visit ASCO's patient information website, Cancer.Net, where they will find authoritative, oncologist-approved information that will help them navigate their diagnosis and treatment. Visit www.cancer.net/estore to order your free referral cards today. Available in English and Spanish. 
© 2020. American Society of Clinical Oncology. All rights reserved.
---