After Training Across Three Continents, a Hematologist Leads the Wisconsin Hematology/Oncology Division

Guest Editor

Jame Abraham, MD, FACP
Dr. Abraham is Professor of Medicine, Lerner College of Medicine, and Chair of the Hematology and Medical Oncology Department at Taussig Cancer Institute, Cleveland Clinic.
In this edition of Living a Full Life, guest editor Jame Abraham, MD, FACP, spoke with hematologist Parameswaran Hari, MD, MRCP, Chief of the Division of Hematology and Oncology at the Medical College of Wisconsin, Milwaukee. In addition, Dr. Hari holds the Armand J. Quick/William F. Stapp Chair in Hematology. In his 18 years at the Medical College of Wisconsin, Dr. Hari has specialized in the treatment of myeloma, amyloidosis, and other blood disorders that respond to cell therapies. He also serves as the Secretary of the American Society for Transplantation and Cellular Therapies.
Dr. Hari was born in Kerala, a small state on the southwestern Malabar Coast of India. "Although Kerala is a poor place, its people are known for being socially committed and highly educated. It is, in fact, one of the most literate societies on the planet. There is also a very good health-care network with access to excellent primary care. Although I grew up in what was considered a middle-class area, my father was born into extreme poverty. So, early on in my life, I was aware of vast social inequities, and it made an impact on my worldview. Everybody deserves a fair shake in life, especially when it comes to health care."
A Relative With Cancer
Dr. Hari did his undergraduate work at the University of Kerala, receiving his medical degree in 1992. Asked about early events that influenced his decision to pursue a career in oncology, Dr. Hari replied, "The first patient with cancer I ever interacted with was my mother's uncle, who had multiple myeloma. I was in high school at the time—the early 1980s—and during that period, there was no treatment for the disease."
Dr. Hari continued: "My great uncle lived in a village quite a way from us, but every so often he would stay with us for days at a time when he was going to see a doctor at the hospital. He lived for about 3 or 4 years with the disease but suffered greatly, as he was in constant bone pain and endured multiple fractures. He was a very tall and dignified man, and he lost a lot of his stature during his battle with the disease, which remains vivid in my memory. It is sort of fitting that I ended up being a myeloma specialist, although I do treat some other blood cancers, too."
PARAMESWARAN HARI, MD, MRCP

On his work with the CIBMTR and BMT CTN: "Over the years, we have amassed an incredible group of experts, ranging from immunologists, scientists, transplant specialists, and data analysts to nursing and social work teams. We really strive to make the patient experience and outcomes uniquely good on all levels."
On a cure for myeloma: "We are continually moving the bar, and it will take more years in the lab and in clinical trials, but one day our cumulative treatments will be curative."
On staying curious: "Curiosity leads to opportunities and makes your career in oncology all the richer."
Reflecting on his time at the University of -Kerala, Dr. Hari noted, "During my undergraduate work, I had no driving interest to become a doctor. In fact, I was a physics major in college. However, my mother, who was a very influential person in my life, lobbied for me to become a physician, and I ended up going to medical school."
He added: "Even during medical school, I was not fully committed to following any particular path. But I do remember being intrigued by blood cancers, due largely to the fascinating lectures I attended in pathophysiology. It struck me as a beautiful art, being able to link pathology with clinical pheomena, especially in hematology."
Career Decisions
Despite his fascination with hematology, when he graduated from medical school, Dr. Hari had decided to become a cardiologist. "I was accepted into a cardiology fellowship in India. During my training, I finally decided that cardiology wasn't the right fit, so I went off to the United Kingdom to discover what kind of medicine I wanted to pursue. I traveled around, but my formative experience was at the Christie Hospital in Manchester, England—one of the first cancer centers in the world."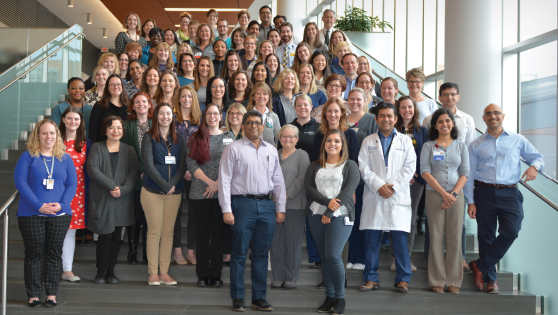 Dr. Hari (center) with his team.
Dr. Hari noted that the Christie had its beginning in the Cancer Pavilion and Home for Incurables, founded in 1892. In 1901, it was renamed the Christie Hospital in honor of a wealthy donor, Richard Christie.
Around that time, there had been promising results from early studies using radiation to treat cancer. Radium had recently been discovered, and doctors at the Christie became interested in its potential therapeutic uses, which led to pioneering work with an approach dubbed the "Manchester method" for radiation treatment. The Christie is associated with many therapeutic firsts, including the use of tamoxifen in breast cancer, cultured bone marrow in leukemia treatment, and single-harvest blood stem cell transplant in 1991.
A Young Patient Helps Shape a Career
"I was doing nights at the Christie, and I'd become attached to a young man with acute myeloid leukemia. I'd drop by his room to chat and listen to music. Unfortunately, he didn't do well and passed away, but to this day, he remains in my memory. Over the following few months, I continued to have discussions with his hematologist, and I came to the conclusion that hematology offered a lot more opportunity to grow in an exciting field that was rapidly advancing,despite the dismal results at the time," Dr. Hari said.
"In 1998, after training in hematology, I went to the United States to present the findings of a study at the American Society of Hematology Annual Meeting. I was taken by the depth and knowledge of hematology in the States, so I immediately took my hematology board exam and moved here. I did an internal medicine residency at the Lankenau Medical Center, Jefferson Health, in Philadelphia. Then, in 2002, I did my oncology fellowship at the Medical College of Wisconsin, and I've been here ever since," said Dr. Hari.
Dr. Abraham asked about mentors, to which Dr. Hari responded, "In particular, when I was in my MD program in the early 1990s at the Central University of Pondicherry, I had a fantastic mentor, a hematologist named Dr. Tarun Kumar Dutta. He was ahead of his time and strived against great odds to bring therapies to an underserved population."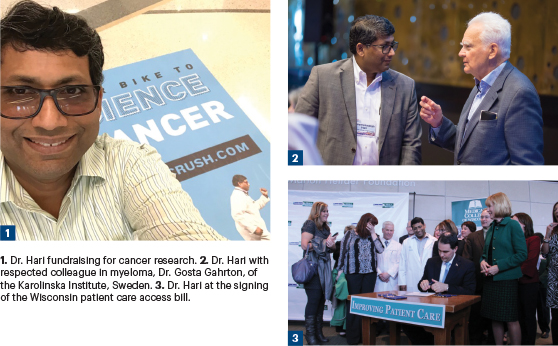 Dr. Hari recalled: "It was a very difficult period in India. We had to mix our own chemotherapy agents. We were dealing with extreme poverty. Desperately poor patients with lymphoma, for instance, would come to us for the CHOP regimen [cyclophosphamide, doxorubicin, vincristine, prednisone]. However as soon as they felt mildly better after one or two cycles, they would resume farm work without coming back to finish the regimen. Dr. Dutta was a wonderful advocate for these unfortunate patients, who were struggling not only with the disease, but with their life circumstances. That experience had a lasting impact on how I viewed myself as a healer."
Much Progress, More to Come
Dr. Hari noted that, since his first familial exposure with multiple myeloma, scientific advances have transformed a once hopeless diagnosis into one that has changed the face of the disease around the world. "In 1998, the groundbreaking study of thalidomide in multiple myeloma at the University of Arkansas was a remarkable advance that gave people around the world a new sense of hope. Since 2003, other powerful thalidomide analogs accelerated the survival outcomes even more. These investigations and clinical trials gave birth to a host of targeted agents, which eventually led to the development of immunotherapies in myeloma and other cancers. Thus, my career followed the arc of these advances that transformed the way we approach cancer management. It's been fruitful and exciting," said Dr. Hari.
Asked about his role as Director of the Medical College of Wisconsin Blood and Bone Marrow Transplant Program, Dr. Hari said, "We do more transplants and cell therapy than any other facility in Wisconsin and are one of the larger programs in the country. We believe in a patient-focused approach to care, so we carefully select only those patients who will benefit from transplantation. Moreover, we have one of the country's most advanced transplant immunology laboratories here on campus."
He continued, "Another thing that sets us apart is that we are home to the Center for International Blood & Marrow Transplant Research (CIBMTR) and are the data coordinaton center for the Blood and Marrow Transplant Clinical Trials Network (BMT CTN). Both of these organizations monitor and coordinate transplants worldwide, so we are gathering and analyzing the global data on these procedures, which gives us cutting-edge information that we use to design our clinical trials. Over the years, we have amassed an incredible group of experts, ranging from immunologists, scientists, transplant specialists, and data analysts to nursing and social work teams. We really strive to make the patient experience and outcomes uniquely good on all levels."
Despite remarkable advances, myeloma is still considered incurable. Asked to project about a potential cure for the disease he has devoted much of his career to, Dr. Hari remarked, "it is not going to be cured by one central change or drug. That said, we have progressed to a point in which very soon about 50% of patients with multiple myeloma will live long and die of another cause. We are continually moving the bar, and it will take more years in the lab and in clinical trials, but one day our cumulative treatments will be curative."
Keep a Curious Mind
How does a busy clinician-researcher maintain a balanced life? "My philosophy is that you should do things in life that make you happy," Dr. Hari said. "I have always engaged in a diverse array of activities outside of work that keep me focused and balanced. When people talk about physician burnout, I think it is sometimes also a sign of disengagement from their career, which leads to a form of cynicism. Of course, the omnipresent day-to-day challenges of research, clinic, and bureaucracy never help."
He added: "In my case, I have identified a cause in my career, which is to advance the outcomes of patients with multiple myeloma. Along with my clinical and research efforts, I do a lot of advocacy and outreach work. I think it's important to take a step back, to look at the forest and not be blinded by the trees. Oncology is challenging, no doubt, but the rewards of this great career far outweigh the negatives. I'm probably not a good person to give advice on burnout, simply because I absolutely love what I do."
Any advice for up-and-coming oncologists? "I would stress the importance of being involved in research, no matter what level. Our field is exploding on many fronts, but to make further progress, we need to get more patients with cancer on clinical trials. I cannot overestimate the importance of trials. I would emphasize that fellows should follow their passion but keep a curious mind throughout their career. Curiosity leads to opportunities and makes your career in oncology all the richer." 
DISCLOSURE: Dr. Hari has received honoraria from Amgen, Celgene, Juno Therapeutics, Novartis, and Sanofi; has served in a consulting or advisory role for Amgen, Bristol-Myers Squibb, Celgene, Janssen, Karyopharm, Kite Pharma, Pharmacyclics, Sanofi, and Takeda; and has received institutional research funding from Celgene, Millennium, Onyx, and Spectrum Pharmaceuticals.
---