Managing the Cost of Cancer Care Can Be Overwhelming: This ASCO Resource Can Help

A cancer diagnosis is often overwhelming, and adding financial burden to the mix can sometimes feel unmanageable. Give your patients the practical information they need with the Managing the Cost of Cancer Care booklet from ASCO. It covers health insurance benefits, information about the Affordable Care Act, and more.
Bulk quantities of this high-quality resource are available at cancer.net/estore. Order a pack of 50 booklets for $20 (that's just $0.40 each). ASCO members save 20% on all patient education materials, and shipping is free within the United States.
Visit cancer.net/ascoanswers to download free PDF versions of these materials. To request free promotional materials for your practice, please e-mail contactus@cancer.net. ■
© 2019. American Society of Clinical Oncology. All rights reserved.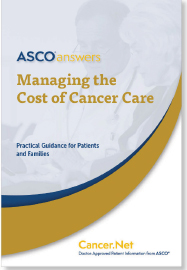 ---