A Clinician's Guide to Treating Patients With Glioblastoma
A Conversation With John F. de Groot, MD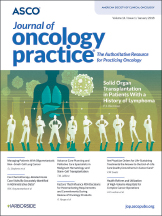 Glioblastoma, a grade 4 astrocytoma, is the most common and most aggressive form of primary brain tumors in adults. The most recent guidance on molecular profiling, diagnostic and prognostic factors, and treatments for newly diagnosed and recurrent diseases was described in the Journal of Oncology Practice by John F. de Groot, MD, Professor and Department Chair Ad Interim of the Division of Neuro-Oncology at The University of Texas MD Anderson Cancer Center, and Joo Yeon Nam, MD, of Rush Medical Center, Chicago.1 Dr. de Groot highlighted some of this information in an interview with The ASCO Post.
Complex Standard of Care 
Has the standard of care for newly diagnosed glioblastoma changed in recent years? 
There has not been a recent change in the standard of care for newly diagnosed glioblastoma. The current standard of care remains complex, consisting of maximal safe resection and then fractionated localized radiotherapy with daily concomitant temozolomide, followed by adjuvant temozolomide. 
Molecular Profiling 
Is molecular profiling fairly new to this type of central nervous system tumor? 
Yes. Advances in molecular profiling of these tumors has pointed to several prognostic factors that may help us risk-stratify patients. They include mutation in isocitrate dehydrogenase 1 or 2 (IDH1 or IDH2) and methylation of the O6-methylguanine-methyltransferase (MGMT) promoter. A retrospective review showed that patients with IDH-mutant glioblastoma had better overall survival than did those with IDH wild-type anaplastic astrocytoma, suggesting IDH mutation status may be more prognostic than histologic grade.2 The World Health Organization classification of central nervous system tumors now incorporates IDH status in the diagnosis of gliomas, and we encourage pathologists to classify tumors as IDH-mutant or wild-type whenever possible. 
In addition, we also consider MGMT promoter methylation, which conveys prolonged survival vs tumors without methylation. It also may confer sensitivity to the most efficacious drug we use for glioblastoma, temozolomide. The survival benefit associated with MGMT promoter methylation has been confirmed in many studies. 
Although patients whose tumors are not MGMT promoter–methylated have a worse prognosis, in the absence of a clinical trial, they are still treated with concurrent and adjuvant temozolomide. Some patients appear to derive a significant benefit from temozolomide despite having MGMT-unmethylated tumors. 

John F. de Groot, MD

Joo Yeon Nam, MD
Treatment Based on Patient Age 
Is the standard treatment for newly diagnosed patients different for younger vs older patients? 
Maximal safe resection improves survival, but it must be balanced against the risk of postoperative neurologic deficit. This is true for younger and older patients alike. 
The median age of diagnosis is 64 years. For younger patients (generally defined as age < 65) with a good performance status, partial-brain fractionated radiotherapy with concomitant daily temozolomide is recommended. This regimen involves 60 Gy in 2-Gy fractions, given for a total of 30 fractions over 6 weeks, plus 75 mg/m2/d of temozolomide. Concomitant chemoradiation therapy is typically followed by 6 to 12 cycles of adjuvant temozolomide, given on days 1 to 5 of a 28-day cycle at doses of 150 mg/m2/d for cycle 1 and increasing to 200 mg/m2 for subsequent cycles, if tolerated. The optimal duration of adjuvant temozolomide is unknown; a total of 12 cycles has not proved to be more effective than 6 cycles, nor has dose-dense delivery been found to be better than standard delivery. 
Most fit, elderly patients can be successfully treated with resection, followed by hypofractionated radiotherapy with concomitant temozolomide. Patients who cannot tolerate the combination may be treated with hypofractionated radiotherapy or temozolomide alone (temozolomide would be especially appropriate for those with MGMT methylation). 
Although there have been no studies of treatment in patients with a poor functional status, generally, the recommendations for elderly patients are appropriate for these patients as well. 
Alternative Treatments for Newly Diagnosed Disease 
Are there additional drugs that can be added to the standard of care or alternative approaches to newly diagnosed patients? 
There are a few. Therapy with tumor-treating fields (Optune) is now approved for newly diagnosed patients and also for those with recurrent disease. This is a wearable device with transducer arrays that attach to the shaved scalp and deliver alternating electrical fields, purported to disrupt mitosis. In the pivotal studies,3,4 overall survival was improved; however, some concerns have been raised about certain design factors in these trials. 
"The standard treatment options for recurrence have shown little efficacy. The first priority is to identify patients who might be eligible for a clinical trial."

— John F. de Groot, MD




Tweet this quote



Another treatment is the carmustine-impregnated wafer (Gliadel), which is placed in the surgical cavity after resection. Studies have been inconsistent as to its benefit, but some suggest survival may be prolonged by 2 to 3 months with this treatment. 
The antiangiogenic agents bevacizumab (Avastin) and cilengitide, and rindopepimut, a peptide vaccine against the epidermal growth factor receptor deletion mutation (EGFR variant III), have also been investigated as adjuvant therapies. Although they have failed to show a substantial benefit, bevacizumab was given full U.S. Food and Drug Administration approval in December 2017 for the treatment of recurrent glioblastoma. 
Follow-up Protocol 
After completion of chemoradiation therapy, what is the follow-up protocol, and are there any issues with it? 
Magnetic resonance imaging (MRI) of the brain, with and without contrast, is used for routine surveillance (every 2 to 4 months) and may help in the early detection of recurrence. Where imaging can create some confusion, however, is in the case of pseudo-progression and also pseudo-response. 
Pseudo-progression is a transient increase in the enhancement and size of the tumor, usually within the first 12 weeks of completing chemoradiation therapy. It mimics early tumor progression and thus may pose both diagnostic and therapeutic challenges. The wisest course, especially in patients with MGMT promoter–methylated disease, is to continue adjuvant chemotherapy until true progression can be confirmed with imaging or tissue analysis. Pseudo-response is the reverse, suggestive of remarkable improvement after treatment with bevacizumab. 
Our response assessment, Radiographic Assessment in Neuro-Oncology (RANO), has been revised to help clinicians interpret these findings.5 
Strategies for Recurrent Glioblastoma 
What treatments are available for recurrent glioblastoma? 
The treatment options for recurrence have shown little efficacy; therefore, there is no standard approach. The first priority is to identify patients who might be eligible for a clinical trial. However, up to 30% of patients are eligible for repeat resection for cytoreduction and for the identification of targetable mutations through clinical trial enrollment. Younger, fit patients with small tumor volumes are the preferred candidates for this approach and may derive some benefit. Re-irradiation, ideally with fractionated radiation, is a palliative option. 
"We encourage pathologists to classify tumors as IDH-mutant or wild-type whenever possible."

— John F. de Groot, MD




Tweet this quote



Temozolomide re-challenge can be considered in patients with MGMT promoter–methylated tumors or in those who initially responded to the drug. Nitrosoureas are a common treatment, especially when patients respond during adjuvant temozolomide, but these drugs have potentially serious toxicities. Bevacizumab is approved for recurrent disease, although the benefit is modest. Its antiangiogenic property can be helpful, however, in reducing peritumoral edema. Tumor-treating fields are approved as well, and, of course, enrollment in a clinical trial should always be considered for patients who are able. 
Treatments Under Investigation 
Does the future look any brighter for the treatment of glioblastoma? 
There are many areas of active investigation, most excitingly the various immunotherapeutic approaches: peptide- and tumor-based vaccines, immune checkpoint inhibitors, oncolytic viruses, and infusion of autologous activated T cells. 
Other areas of ongoing research include the use of molecularly targeted therapies against commonly activated extracellular growth factor receptors, including EGFR, vascular endothelial growth factor receptor, and platelet-derived growth factor receptor. Small molecules targeting intracellular signal transduction pathways involved in proliferation are also being studied. We cautiously await the results of these newer, and hopefully more effective, approaches. ■ 
MORE ON GLIOBLASTOMA
For more information on treating patients with glioblastoma,see an interview with James R. Perry, MD, on The ASCO Post Newsreels at www.ascopost.com/videos/.

DISCLOSURE: Dr. de Groot reported consulting for Celldex, Deciphera Pharmaceuticals, AbbVie, FivePrime Therapeutics, GW Pharma, Carthera, Eli Lilly, and Boston Biomedical Inc. He has served on advisory boards for Genentech, Celldex, Foundation Medicine, Novogen, Deciphera, AstraZeneca, Insys Therapeutics, Kadmon, Merck, and Eli Lilly. He has received grants or research support from Sanofi-Aventis, AstraZeneca, EMD-Serono, Eli Lilly, Novartis, Deciphera Pharmaceuticals, and Mundipharma. He reported other relevant financial or material interests in VBL Therapeutics, Novella, VBI, Ziopharm Oncology, and Gilead. 

REFERENCES 

1. Nam JY, de Groot JF: Treatment of glioblastoma. J Oncol Pract 13:629-638, 2017. 

2. Hartmann C, Hentschel B, Wick W, et al: Patients with IDH1 wild type anaplastic astrocytomas exhibit worse prognosis than IDH1-mutated glioblastomas, and IDH1 mutation status accounts for the unfavorable prognostic effect of higher age: Implications for classification of gliomas. Acta Neuropathol 120:707-718, 2010. 

3. Stupp R, Idbaih A, Steinberg DM, et al: Prospective, multi-center phase III trial of tumor treating fields together with temozolomide compared to temozolomide alone in patients with newly diagnosed glioblastoma. Neuro Oncol 18(suppl 6):i1, 2016. Abstract LTBK-01. 

4. Stupp R, Taillibert S, Kanner AA, et al, Maintenance therapy with tumor-treating fields plus temozolomide vs temozolomide alone for glioblastoma: A randomized clinical trial. JAMA 314:2535-2543, 2015. 

5. Wen PY, Macdonald DR, Reardon DA, et al: Updated response assessment criteria for high-grade gliomas: Response assessment in neuro-oncology working group. J Clin Oncol 28:1963-1972, 2010.
---