An Inspiring Experience at Cancer Control for Primary Care Course in Bhutan

I'll admit it. When I was first asked if I would chair the Cancer Control for Primary Care (CCPC) Course in Bhutan, I immediately exclaimed yes... and then sheepishly went to look up where exactly Bhutan was on a map. For the uninitiated, Bhutan is a country nestled between India and Tibet in the Eastern Himalayas. I had heard of the Buddhist kingdom, of course, and its "Gross National Happiness Index," and even with the little I knew of it, the country was alluring enough—but then to be given the opportunity to help educate primary care providers in reducing cancer burden in their own surroundings? I was all in!
I had been on other trips abroad with ASCO, including being part of the Multidisciplinary Cancer Management Course (MCMC) in Zimbabwe and knew the tireless work of the ASCO staff that would go into making this trip unbelievably successful. And, true to form, they did not disappoint. This would be the first oncology-focused workshop in Bhutan, and certainly set the bar high.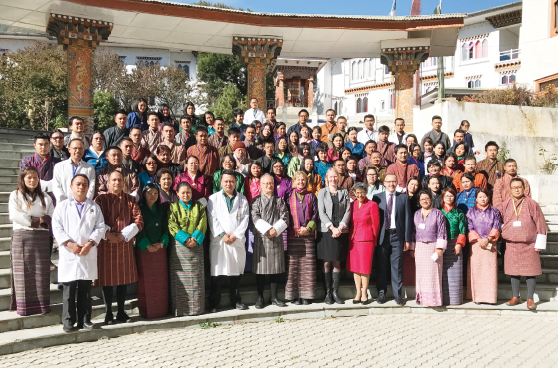 Faculty and attendees of the Cancer Control for Primary Care Course in Bhutan.
In the year or so leading up to the trip, we had been in close contact with people in Bhutan, who were organizing the visit from their end. People like Tara Devi and Phuntsho Om were only names on e-mail chains and voices on teleconferences until I met them in person in Thimpu. These amazing women were really the backbone of the course and bent over backward to make sure that the course went flawlessly, and we all felt well taken care of. In addition, we worked with faculty from other countries—many of whom had done work in Bhutan before. People like Dr. Dinesh Pendharkar from India, Dr. Habib Ghaddar, nurse Anna Antonowich, and Dr. M.R. Rajagopal were completely engaging, as was the faculty from Bhutan who also gave many of the talks. Learning from people like Dr. Ugyen Tshomo, Dr. Chabilal Adhikari, and Tshering Dolkar about the issues surrounding cancer prevention and control in Bhutan from a firsthand perspective was amazing.
Even more spectacular was the sheer enthusiasm of the participants. We had been expecting no more than 50 people, and as the room filled to capacity, we realized that we were well short of handouts—there were more than 87 participants there! There was a buzz in the room as all of them participated in roleplaying and asked probing questions of the speakers. It was truly enthralling to see a group of individuals so keen to learn about cancer control and prevention!
Talks ran the gamut of topics, from basics of cancer biology to cancer statistics specific to Bhutan. We talked about the role of primary care and prevention—not only in terms of diet and exercise, but also Doma use, which increases the risk of head and neck cancers. We discussed infectious causes of cancer and discovered that Helicobacter pylori and upper gastrointestinal malignancies are disproportionately high in the country. We talked about genetics and tried our hand at drawing pedigrees and deciphering which was an autosomal-dominant vs recessive pattern. We focused on key cancer areas—from lung cancer, to breast cancer, to cervical cancer—equipping the participants with pearls of wisdom geared to cancer prevention, diagnosis, and control in the community. Participants practiced communication skills and how to discuss prevention with patients who may be less than amenable to reducing their risks. All in all, it was a jam-packed program that was fun and informative for all.
Of course, it wasn't all work. Our hosts made sure that we got to see Buddha Pointe, the Textile Museum, and Simply Bhutan (a museum specializing in traditional Bhutanese living). We ate, shopped, and engaged with our newfound friends and colleagues. The CCPC was followed by a Palliative Care Workshop, teaching critical skills in symptom management for this country.
While the course was certainly great for us as faculty, one often wonders whether or not we actually made a difference. ASCO prides itself on rigorous course evaluation, and I was so thrilled to see the impact we had! Prior to the course, only 8% of participants said that they always counsel patients about cancer and cancer risk factors, and fewer than a third felt very prepared to talk to female patients about breast and cervical cancers. Fewer than 10% of respondents stated that their understanding of cancer risk factors and their ability to communicate with patients about cancer and cancer risk was "very good" or "excellent." After the course, however, there was dramatic improvement in all of our educational objectives. Now, more than 80% of respondents rated their understanding of cancer risk and ability to communicate this with patients to be "very good" or "excellent." Indeed, 100% of participants stated that the course provided knowledge that would be actionable and planned to make changes in their practice as a result.
As Bhutan develops its cancer control and prevention programs, we were told that they may be building a cancer hospital and expanding their cancer treatment programs over the next few years as well. Historically, patients were sent to India for their radiation therapy and for other services that are not available in Bhutan. Interestingly, the Bhutan government pays for all health care of its citizens, even if they have to go out of the country for care. After the course, we learned that the first radiation facility in Bhutan opened, and definitive steps are being made to expand cancer care in Bhutan. As plans for consolidation of cancer care within their borders go forth, the partnership between the Health Ministry, the university, and ASCO will be critical for building a sound educational foundation for their oncology workforce. Who knows? Maybe in a few years, we will be holding the first ever MCMC in Thimpu! ■
Coauthored by Vanessa Eaton and Vanessa Sarchet.
Originally published in ASCO Connection. © American Society of Clinical Oncology. "An Inspiring Experience at Cancer Control in Primary Care Course in Bhutan." ASCO Connection, March 13, 2018. All rights reserved.
---