Stage I Lung Cancer: Treatment Advances Have Changed the Game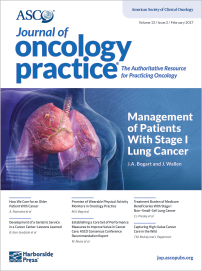 Read more in the Journal of Oncology Practice (JOP). 
Visit ASCOPubs.org/journal/jop
Patients with stage I lung cancer are achieving excellent local tumor control, thanks to an evolution in radiotherapy and surgical approaches. Jeffrey A. Bogart, MD, Professor and Chair of the Department of Radiation Oncology at the State University of New York's Upstate Medical University and Interim Director of the Upstate Cancer Center, Syracuse, recently described the current management of stage I lung cancer in an article in the February 2017 issue of the Journal of Oncology Practice.1 Dr. Bogart described his key points in this interview with The ASCO Post.


Standard of Care for Nonsurgical Candidates
What changes in the treatment of stage I lung cancer propelled you to write about this topic for the Journal of Oncology Practice?
The field has changed radically over the past 15 years, particularly with advances in radiotherapy, minimally invasive surgery, and ablative therapies. This is especially applicable to the management of patients who are not suitable candidates for lobectomy, which remains the standard of care.

Jeffrey A. Bogart, MD
When I started in practice, many such patients often did not receive aggressive treatment; however, with the development of stereotactic body radiation therapy (SBRT) and minimally invasive surgical techniques, that's changed. We now have robust data from prospective trials in North America, Europe and Asia showing positive, convincing outcomes in patients who cannot undergo lobectomy. Radiotherapy with SBRT has rapidly become the standard of care for patients unable to undergo surgery, as many trials demonstrate local tumor control rates of 80% to 90%. Likewise, a recent trial of sublobar resection for high-risk patients showed excellent tumor control and overall survival.2
Questions and Controversies
What are the key questions and controversies in managing stage I disease?
To begin, it's important to appropriately risk-stratify patients, as this really determines the approach to therapy. For standard-risk patients, there's the question of lobectomy vs sublobar resection. Then there's the question of SBRT vs surgery in high-risk patients.
The standard for stage I patients has been lobectomy, and this still holds true while we await the results of ongoing studies. We usually select SBRT for patients deemed at high risk for complications from surgical intervention or anesthesia.

— Jeffrey A. Bogart, MD




Tweet this quote



The standard for stage I patients has been lobectomy, and this still holds true while we await the results of ongoing studies. Many years ago, the Lung Cancer Study Group found a much higher rate of local tumor recurrence associated with sublobar resection for tumors ≤ 3 cm.3 More recent data suggest that sublobar resection should be limited to tumors ≤ 2 cm.4,5 The large randomized CALGB 140503 trial, which has completed accrual of more than 600 patients, is comparing sublobar resection to lobectomy in patients with tumors ≤ 2 cm. This trial should help answer the question of whether patients with small tumors are adequately treated with sublobar resection.
Regarding SBRT vs surgery, we usually select SBRT for patients deemed at high risk for complications from surgical intervention or anesthesia. There are also many patients with medical comorbidities who would prefer not to have an operation if it is not necessary. It has been challenging to compare SBRT and sublobar resection in patients who are not suitable for lobectomy but could still tolerate a limited resection. Randomized trials have been attempted, but so far these studies have failed to accrue patients adequately.
Are there clear advantages for surgery vs SBRT, or vice versa?
Although results are excellent with SBRT, there are certainly many patients who are well served by surgery. There are also lesions in some locations that are more easily treated with resection. Because the results of SBRT have been so good, some trials have looked at using it in patients who are candidates for lobectomy. An analysis of two randomized trials, both closed due to poor accrual, published in 2015 actually showed an increased number of deaths in the surgical cohort6; but in my opinion, the sample size was too small to allow any real conclusion to be reached.
2017
The field of thoracic oncology is changing. We're seeing ­increased lung cancer screening, a change in pathologic ­classification, and molecular subtyping of tumors; thus, ­treatment will be individualized more and more.
One advantage with surgery is the potential to sample lymph nodes, which is not routinely done in patients treated with SBRT. The recurrence rate in regional lymph nodes over time is not as high as we initially expected in many studies, but it is still a concern. So there is some controversy over the need to evaluate the lymph nodes, especially in patients at higher risk for disease spread to the lymph nodes. These are typically patients with large or centrally located lesions, although sublobar resection is often not possible for centrally located tumors.
In both lobectomy patients and high-risk patients, it's been difficult to perform studies comparing surgery and SBRT. Most research has focused on peripheral tumors, those accessible surgically. We are involved in a trial comparing sublobar resection and SBRT for high-risk patients with peripheral tumors. Given the difficulty in getting patients to accept randomization to such different approaches, the StableMates trial design is a little different in that it actually randomizes patients before they decide to enroll. If the patient chooses not to accept the treatment assignment, he or she can choose the alternate approach and be prospectively followed. It's a compromise to collecting prospective data that compare surgery and radiotherapy.
'Borderline' Surgical Candidate
What is your approach to the "borderline" surgical candidate?
In patients considered borderline surgical candidates, clinicians should apply the standards of the American College of Chest Physicians (ACCP). They include pulmonary function testing with functional exercise testing, including VO2 max (maximal oxygen consumption). Functional status, pulmonary reserve, and comorbidities are generally more important than chronologic age.
Borderline surgical candidates can be considered for pulmonary rehabilitation and smoking cessation, and sublobar resection is often feasible if lobectomy cannot be performed. It is a "lesser" surgical approach and may be appropriate for patients with poor lung function or other factors that make them poor candidates for lobectomy.
There are two types of sublobal resection: segmentectomy, which follows anatomic boundaries, and wedge resection, which is less of an oncologic procedure, only removing the tumor with a surrounding margin. Segmentectomy is generally preferred where possible, because the data suggest that the recurrence risk is somewhat lower than it is with wedge resection.
Recent Treatment Advances
What advances in the surgical approach have emerged in recent years?
For patients undergoing lobectomy, minimally invasive surgery, such as with video-assisted thoracoscopic surgery, is often considered. Some studies have reported that anatomic lung resection using video-assisted thoracoscopic surgery results in decreased chest tube duration, decreased complication rates, shorter hospital stay, and similar (if not improved) survival compared with traditional open incisions. The ongoing ­VIOLET trial is comparing video-assisted thoracoscopic surgery with open lobectomy. It's not clear yet whether there are differences in oncologic outcomes, but there appears to be less morbidity with video-assisted thoracoscopic surgery.
What are some recent advances in radiotherapy techniques?
Radiotherapy regimens have changed as well. The standard treatment for SBRT for peripheral tumors was defined in Radiation Therapy Oncology Group (RTOG) 0236 as 3 fractions over 8 to 14 days, but there are prospective data showing good outcomes with various regimens, including a single treatment alone.
As our understanding of toxicity has evolved, some centers have moved to adapting the radiotherapy regimen to the location of the tumor. For example, in highly peripheral tumors, the approach of delivering three fractions may result in an increased risk of rib toxicity (pain, fracture). So with these tumors, many physicians have shifted toward "going a bit slower," delivering SBRT to peripheral tumors in up to five fractions. That said, a high level of radiotherapy dose intensity should be maintained with any SBRT regimen to maximize local tumor control.
Early trials showed a higher risk of severe toxicity with SBRT for centrally located tumors with the intensive three-fraction regimen used for treating peripheral tumors. So the RTOG and others have designed separate protocols evaluating SBRT for central tumors. Regimens for central tumors typically use five or more fractions.
Systemic Therapy
How are targeted agents being incorporated into stage I lung cancer?
Systemic therapy is not standard for the majority of patients with stage I disease, but standard-risk patients with primary tumors > 4 cm may benefit from adjuvant chemotherapy. Patients with resected tumors > 4 cm may be eligible for the ALCHEMIST trial, which is evaluating the role of targeted therapy in participants whose tumors are found to harbor certain genetic alterations (epidermal growth factor receptor [EGFR] gene mutations or anaplastic lymphoma kinase [ALK] gene rearrangement). The study also evaluates the role of immunotherapy in tumors that do not have EGFR or ALK abnormalities. The role of systemic therapy in high-risk patients treated with SBRT has not been well studied, but prospective data would be of interest, particularly for patients with larger tumors, as the risk of systemic relapse increases with tumor size.
Multidisciplinary Approach
You advocate a multidisciplinary approach to patients with stage I lung cancer. Why is this important?
Many patients are candidates for both sublobar resection and SBRT, and the discussion really needs to be presented in a mindful and balanced manner. It is not optimal to make this type of important decision based purely on the patient's objective data. A multidisciplinary clinic allows both a surgeon and radiation oncologist to meet the patient at the same time and provide that balance. It also should increase the chance of a patient deciding to enroll on a clinical trial.
Closing Thoughts
Any other advice you would like to share with clinicians?
This field is changing. We're seeing increased lung cancer screening, a change in pathologic classification, and molecular subtyping of tumors; thus, treatment will be individualized more and more, and there will not be a simple solution. Clinicians should also become familiar with the newest revision of the staging system, which further subclassifies tumors according to size; it may end up being a critical determinant of the treatment approach. The exciting part is that the expectation for long-term survival in the high-risk population has completely changed in the past 2 decades, and treatment options continue to advance. ■
Disclosure: Dr. Bogart reported no potential conflicts of interest.
References
1. Bogart JA, Wallen J: Management of patients with stage I lung cancer. J Oncol Pract 13:69-76, 2017.
2. Fernando HC, Landreneau RJ, Mandrekar SJ, et al: Impact of brachytherapy on local recurrence rates after sublobar resection: Results from ACOSOG Z4032 (Alliance), a phase III randomized trial for high-risk operable non–small-cell lung cancer. J Clin Oncol 32:2456-2462, 2014.
3. Ginsberg RJ, Rubinstein LV: Randomized trial of lobectomy versus limited resection for T1 N0 non-small cell lung cancer. Lung Cancer Study Group. Ann Thorac Surg 60:615-623, 1995.
4. Altorki N: A phase III randomized study of lobectomy versus sublobar resection in patients with small (≤ 2 cm) peripheral stage non-small cell lung cancer. Available at http://clinicaltrials.gov/ct2/show/NCT00499330. Accessed March 21, 2017.
5. Nakamura K, Saji H, Nakajima R, et al: A phase III randomized trial of lobectomy versus limited resection for small-sized peripheral non-small cell lung cancer. Jpn J Clin Oncol 40:271-274, 2010.
6. Chang JY, Senan S, Paul MA, et al: Stereotactic ablative radiotherapy versus lobectomy for operable stage I non-small cell lung cancer: A pooled analysis of two randomised trials. Lancet Oncol 16:630-637, 2015.
---