ASBMT Honors Mary Horowitz, MD, MS, With Lifetime Achievement Award for Blood and Marrow Transplant Research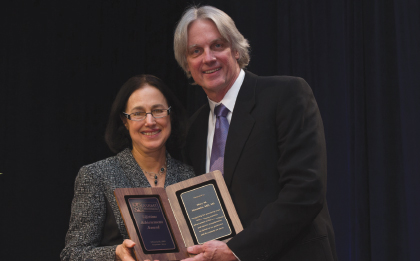 Dr. C. Fred LeMaistre, Immediate-Past President of ASBMT, presented Dr. Horowitz with the ASBMT 2014 Lifetime Achievement Award at the Society's annual meeting. Dr. LeMaistre is Physician-in-Chief, Hematology and Hematopoietic Cell Transplant, Sarah Cannon.
Mary Horowitz, MD, MS, the Robert A. Uihlein, Jr. Chair in Hematologic Research, Professor of Medicine and Chief of Hematology and Oncology at the Medical College of Wisconsin (MCW), was presented with the 2014 Lifetime Achievement Award by the American Society for Blood and Marrow Transplantation (ASBMT) at the organization's annual meeting. The award recognizes her involvement and support of the blood and marrow transplant community, and her past, present and current stewardship of both the Center for International Blood and Marrow Transplant Research ­(CIBMTR) and the Clinical Trials Network. She was also commended for her commitment to mentoring the next generation of clinical scientists.
 Dr. Horowitz, who is the Chief Scientific Director of CIBMTR, studies the effectiveness of transplantation as a treatment for life-threatening diseases such as leukemia, non-Hodgkin's lymphoma and other cancers. The Medical College of Wisconsin collaborates with the National Marrow Donor Program/Be The Match on blood and marrow transplant research through CIBMTR. Through the leadership of Dr. Horowitz, CIBMTR's outcomes-oriented and translational research programs have been continuously funded by the National Institutes of Health for more than 20 years and have been driving forces in the field.
 In addition to leadership positions at MCW, Dr. Horowitz serves as Research Director for the Stem Cell Therapeutic Outcomes Database of the C.W. Bill Young Cell Transplantation Program and Principal Investigator of the Data and Coordinating Center of the national Blood and Marrow Transplant Clinical Trials Network. Dr. Horowitz and colleagues received a $45 million grant from the National Heart, Lung and Blood Institute of the National Institutes of Health and the National Cancer Institute to fund the Clinical Trials Network, the largest federal grant ever awarded to MCW. She also serves as a member of numerous editorial boards and grant review panels.
 A 1980 MCW alumna, Dr. Horowitz completed a fellowship in hematology/oncology and a residency in internal medicine, including a year as chief resident, in the Medical College of Wisconsin Affiliated Hospitals Program. She also completed a Master of Science degree in biostatistics and clinical epidemiology at MCW's Graduate School of Biomedical Sciences. ■
---