Neoadjuvant Aromatase Inhibitor Therapy Converts Many Patients to Candidates for Breast-conserving Surgery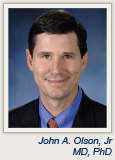 The American College of Surgeons Oncology Group (ACOSOG) Z1031 trial examined the effect of neoadjuvant aromatase inhibitor therapy on clinical response and breast-conservation rates in postmenopausal women with estrogen receptor (ER)-rich stage II or III breast cancer. An update of the surgical outcomes of the trial, reported by John A. Olson, Jr, MD, PhD, from The University of Maryland School of Medicine, Baltimore, at a plenary session of the Society of Surgical Oncology annual meeting,1 showed that a substantial proportion of patients who were considered at baseline to be candidates for mastectomy only or to have inoperable disease were converted to being candidates for breast-conserving surgery after aromatase inhibitor therapy.
Study Eligibility
In this randomized phase II, open-label trial, 377 patients with ER-positive (Allred score 6–8) breast cancer were randomly assigned to 16 weeks of neoadjuvant treatment with one of three aromatase inhibitors (letrozole at 2.5 mg/d, anastrozole at 1 mg/d, or exemestane at 25 mg/d). Patients had to have T2 to T4c, any N, M0 disease, with a palpable primary tumor of greater than 2 cm, and had to agree to undergo lumpectomy or mastectomy after neoadjuvant aromatase inhibitor therapy. Patients with inflammatory breast cancer were excluded, as were patients with diagnosis established by incisional biopsy. No prior treatment for invasive breast cancer, including radiotherapy, endocrine therapy, chemotherapy, or investigational agents, was permitted.
Among 374 patients included in the analysis (3 withdrew consent), clinical T stage was T2 in 74.6%, T3 in 19.5%, and T4a-c in 5.9%, and 71.4% were clinically node-negative at baseline. Prior to treatment, surgeons categorized patients as marginal for breast-conserving surgery (53.2%), candidate for mastectomy only (45.7%), or inoperable (1.1%).
Key Results

Clinical response to aromatase inhibitor treatment (by World Health Organization criteria) occurred in 258 (69.0%) of 374 patients across all arms, with no significant difference observed among aromatase inhibitor arms. Of 352 patients who underwent surgery after aromatase inhibitor treatment, 241(68.5%) had breast-conserving surgery, including 84 of 163 (51.5%) who were assessed as candidates for mastectomy only or inoperable at baseline.
Baseline clinical T stage and final tumor size after neoadjuvant aromatase inhibitor therapy were significantly associated with increased likelihood of conversion from mastectomy candidacy or inoperable status to ability to undergo breast-conserving surgery. After aromatase inhibitor therapy, 27 (24.3%) of 111 patients undergoing mastectomy had pathologic T1 disease (< 2 cm), suggesting that mastectomy was also unnecessary in these patients. The final decision on surgery was surgeon recommendation in 75% of cases and patient preference in 25%.
Implications of Findings
Thus, the use of neoadjuvant aromatase inhibitor in patients with ER-rich tumors enabled half of patients who would have required mastectomy to have tumors downstaged sufficiently to permit lumpectomy, with the evidence further suggesting that mastectomy was not necessary in a quarter of the patients who did undergo mastectomy after neoadjuvant therapy.
As stated by Dr. Olson, "Women with strongly ER-positive tumors who are facing mastectomy have a low toxicity tablet therapy that may permit them to spare their breast by having lumpectomy and radiation. Better techniques to determine residual tumor burden and a willingness to attempt [breast-conserving surgery] in patients with responsive tumors could improve the rates of successful [breast-conserving surgery] after neoadjuvant [aromatase inhibitor therapy]." ■
Disclosure: Dr. Olson reported no potential conflicts of interest.
Reference
1. Olson JA, Gildy BV, Unzeitig G, et al: Neoadjuvant aromatase inhibitor therapy permits breast conservation in postmenopausal women with large, estrogen receptor (ER)-rich breast cancer facing mastectomy: Results from the American College of Surgeons Oncology Group (ACOSOG) Z1031Trial. Society of Surgical Oncology 65th Annual Cancer Symposium. Abstract 3. Presented March 23, 2012.
---