Erwinia chrysanthemi Asparaginase for Acute Lymphoblastic Leukemia in Patients with Hypersensitivity to E coli–derived Asparaginase

In the Clinic provides overviews of novel oncology agents, addressing indications, mechanisms, administration recommendations, safety profiles, and other essential information needed for the appropriate clinical use of these drugs.
Indication
Erwinia chrysanthemi asparaginase (Erwinaze) was recently approved as a component of a multiagent chemotherapeutic regimen for patients with acute lymphoblastic leukemia (ALL) who have developed hypersensitivity to Escherichia coli–derived asparaginase (Elspar, and a pegylated form, Oncaspar).1-3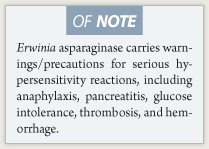 Approval was based on a single-arm, open-label study of Erwinia asparaginase treatment in 58 ALL patients who were unable to continue receving pegaspargase or asparaginase derived from E coli due to allergic reactions. The major efficacy outcome was achievement of sustained serum asparaginase activity levels of at least 0.1 IU/mL, a threshold that is known to result in depletion of asparagine to levels that predict efficacy. Threshold asparaginase activity levels were reached in all 48 patients with available measurements.
How It Works
Erwinia asparaginase reduces circulating levels of the amino acid asparagine by catalyzing the deamidation of asparagine to aspartic acid and ammonia. Leukemic cells are unable to synthesize asparagine, which is required for protein metabolism and survival, due to lack of asparagine synthetase activity. Reduction of circulating asparagine levels results in cytotoxicity specific for leukemic cells by depriving them of an exogenous source of the amino acid.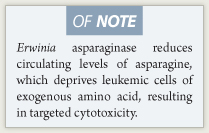 How It Is Given
To substitute for a dose of pegaspargase, the recommended dose of Erwinia asparaginase is 25,000 IU/m2 IM three times a week (Monday/Wednesday/Friday) for six doses (for each planned dose of pegaspargase). To substitute for a dose of native E coli asparaginase, Erwinia asparaginase should be given at 25,000 IU/m2 IM (in place of each scheduled dose of native E coli asparaginase within a treatment).
Safety Profile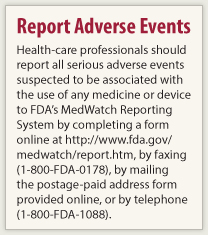 The safety of Erwinia asparaginase has been evaluated in the 58 patients treated in the clinical study supporting approval and in 574 patients treated in an expanded access program (Erwinaze Master Treatment Protocol).
Common adverse events were similar in severity and incidence to those attributable to E coli–derived asparaginase. The most common adverse events included systemic allergic reactions (17%), pancreatitis (4%), abnormal transaminases (3%), coagulopathies (3%), hemorrhage (1%), nausea (2%), vomiting (2%), and hyperglycemia (2%). Grade 3 or 4 adverse events included allergic reactions, pancreatitis, hyperglycemia, thrombosis, hemorrhage, and elevated transaminases. Serious hypersensitivity reactions, including anaphylaxis, occurred in 5% of patients.
Erwinia asparaginase carries warnings/precautions for serious hypersensitivity reactions, including anaphylaxis, pancreatitis, glucose intolerance, thrombosis, and hemorrhage.■
References
1. U.S. Food and Drug Administration: Asparaginase Erwinia chrysanthemi. Available at http://www.fda.gov/AboutFDA/CentersOffices/OfficeofMedicalProductsandTobacco/CDER/ucm280543.htm. Accessed February 29, 2012.
2. ERWINAZE (asparaginase Erwinia chrysanthemi) for injection, intramuscular use, prescribing information. EUSA Pharma (USA), Inc, November 2011. Available at http://www.accessdata.fda.gov/drugsatfda_docs/label/2011/125359lbl.pdf. Accessed February 29, 2012.
3. Vrooman LM, Supko JG, Neuberg DS, et al: Erwinia asparaginase after allergy to E. coli asparaginase in children with acute lymphoblastic leukemia. Pediatr Blood Cancer 54(2):199-205, 2010.
---