Lawrence Einhorn, MD, FASCO, Reflects on the Path to a Cure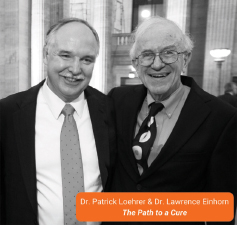 Cancer.Net, ASCO's patient information website, reports a current survival rate for stage I testicular cancer at 99%, but in 1974, men faced an overall survival rate of 5%. Surgery was the only viable treatment option, and if it failed, the prognosis was fatal. Lawrence Einhorn, MD, FASCO, was a young medical oncologist at Indiana University Hospital when he was the first to test a combination of chemotherapy drugs in patients with the disease.
"I felt that taking care of these patients was a real calling," said Dr. Einhorn, but he humbly admits, "I was not intuitive enough or smart enough to think I was going to come up with a successful treatment."
His landmark clinical trial led to a cure for testicular cancer.
"Even in my youthful exuberance, I never would have dreamed that we would have such a high cure rate," said Dr. Einhorn. "This was my walk on the moon, so to speak. You do this once in your lifetime."
In an episode of the Your Stories podcast, Dr. Einhorn reflects on the first patient he cured and his renowned career with friend and colleague Patrick J. Loehrer, MD, FASCO. Listen to the full episode on at CONQUER.ORG, iTunes, or Google Play. 
© 2020. American Society of Clinical Oncology. All rights reserved.
---