Trusted Patient Resource: ASCO Answers Fact Sheet on Fertility and Cancer Treatment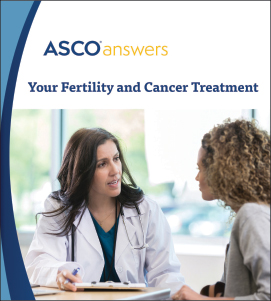 Cancer and its treatment can cause infertility in both men and women. Educate your patients about this potential side effect by giving them the ASCO Answers fact sheet Your Fertility and Cancer Treatment. This fact sheet covers:
An overview of what the terms fertility and infertility mean
What can cause infertility
How to plan for having children after cancer treatment
Words and terms about the subject to know
Questions to ask the health-care team.
Find this fact sheet and a library of other titles at www.cancer.net/factsheets or visit www.cancer.net/estore to order high-quality copies for your practice. Free domestic shipping, and ASCO members save 20%. 
© 2020. American Society of Clinical Oncology. All rights reserved.
---