Unstoppable
My patient and I fought as a team to halt his cancer progression.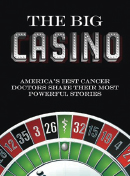 The following essay by Elias Jabbour, MD, is adapted, with permission, from The Big Casino: America's Best Cancer Doctors Share Their Most Powerful Stories, which was coedited by Stan Winokur, MD, and Vincent Coppola and published in May 2014. The book is available on Amazon.com and thebigcasino.org.
War taught me many things. As a boy in war-ravaged Lebanon, I grew up without access to many things normal kids have, but I was also blessed with invaluable life lessons. My godfather, Joseph Jabbour, was a doctor. Following him on his daily rounds in Zahlé, a small town in the Bekaa Valley, I was inspired to follow in his footsteps, treating and healing suffering people. When I saw a neighbor die in front of my eyes from a random shooting typical of civil war, I realized how fragile life is and that we are granted nothing in this life.
Many years later, working as an oncologist at The University of Texas MD Anderson Cancer Center in Houston, I'm reminded of the truth of that realization every day. My own journey, as you can imagine, has had its ups and downs, joys and heartaches. One of my areas of specialization is acute myeloid leukemia (AML), a relentless and devastating malignancy of the blood. AML is often fatal, particularly in adults. When AML patients come to me, they've already been told more or less in so many words, "You have cancer. The cure rate is only 5%. You are going to die."
We are all going to die. I inform patients that AML has several subtypes and that 5-year survival rates vary from 15% to 70%, and relapse rates range from 35% to 80% depending on the subtype. Statistics are derived from a great mass of people—some who do great after treatment and some who do not so great. I advise my patients, "Don't make yourself a number. Take the statistic, build on it, and make it longer. Be one of the people who makes it."
Communicating With Patients
George is one of those rare people. He arrived at MD Anderson in 2010, presenting with fever, fatigue, anemia, and some internal bleeding. In simple terms, his blood studies revealed that rapidly proliferating, abnormal white cells in his bone marrow were crowding out oxygen-bearing red blood cells and blood-clotting platelets.
AML is not hard to diagnose. What is hard to discern are the prognostic factors of disease outcome. George had all the bad factors of the cancer: an abnormal karyotype and bad molecular markers. 
I was under the weather when I first met George, so I wore a mask and avoided close contact, startling him and his wife until I explained I was trying to protect him from catching an infection from me. After he was stabilized and discharged from the hospital, we began to get to know each other. He insisted on knowing everything about his illness and asked me to speak to him "not like a doctor."
Living in the Day
AML demands immediate, aggressive intervention. We began treatment with rounds of a high-dose chemotherapy regimen of cytarabine and idarubicin. When that failed to bring him into remission, we moved on to investigational agents. George did not respond to the treatment. We found a matched donor, and I recommended him for an allogeneic bone marrow transplantation. Because he was in his late 30s, a transplant was George's best alternative for a cure. Unfortunately, he relapsed posttransplant. As every leukemia expert knows, this suggests a very poor prognosis.
Despite these setbacks, George never lost faith another treatment would work.
"Let's find a way to do it," he said.
What impressed me is that in his heart and head, George was always smiling, always unstoppable. "Ok, Dr. Jabbour," he'd say, "I'm grateful for all your efforts, but we can do more to get this cancer under control." Every time I had an idea or became aware of some form of new treatment, I'd call him. We'd meet and I'd discuss it with him and his wife. 
"This is what we need to do," he'd say. We fought as a team in an unstoppable way to halt his cancer progression.
What set George apart from other patients with cancer—and people in general—is that most project their plans into the future to forget what is happening today. They will say, "When I'm cured, I'm going to go to Hawaii with my wife; when my son graduates from high school, I'm moving to Florida; when I retire, I want to go to Europe."
By contrast, George would say, "Let's have a great day today and have faith that we'll find some other treatment tomorrow. There's no reason to be upset. Tomorrow will come. Let's focus on how we can make this day better."
The story for me and for all my patients is simple: Have faith. You will make it one way or another.

— Elias Jabbour, MD




Tweet this quote



And that's what we did. We were able, for example, to adjust the treatment and the palliation we were prescribing to let George attend his son's high school graduation. "Please make sure I'll be in good shape to be there," George insisted. It was a big deal for him because there might not be a next year. He made it, and the family went on a cruise for a week to celebrate. The "happiest days of my life," he told me. For 2 years, he was able to overcome every single obstacle and bad result with joy despite disease progression and the catastrophe he was going through. Our team continued to fight. Eventually, we reached a point beyond which we could not push.
"There's nothing else I can do," I told George.
I remember it was a Friday. I was about to travel to Croatia for a medical meeting. George was very sick and back in the hospital. I wasn't his attending physician, but I showed up just to visit with him and his wife. I remember sitting on the side of his bed. He was drifting in and out of consciousness, but when George saw me, he came back—I swear—I've never seen anything like this, he actually smiled for a whole minute!
Fighting Cancer With Courage
When a patient comes to see you, and you both know the patient is going to die in the coming days, it is a horrible feeling. I sat next to George and held his hand. He was telling me about family events over the past few years that had meaning for him and how much he'd learned from his disease, how much his wife had learned in this fight, and how to fight with courage. He expressed his appreciation for all our team had done for him.
Finally, for the first time ever, George cried, and I cried with him.
"Doctor, we're going to meet again one way or another," he said.
I was trying to explain that I was traveling. I wouldn't be back until Tuesday. "I'll see you then," I managed.
"Not here," he said. "I'm very certain we'll see each other some way, somehow."
I left on my trip, and George passed away on Monday evening. He faced the end of his life with dignity and respect, with decency, and with a smile.
The story for me and for all my patients is simple: Have faith. You will make it one way or another. We don't know when our life is going to end, but we can all be unstoppable and achieve whatever we want. Enjoy and love life. ■
Dr. Jabbour is Associate Professor in the Department of Leukemia, Division of Cancer Medicine, at The University of Texas MD Anderson Cancer Center in Houston.
---