Undefeated
A diagnosis of advanced testicular cancer and three brain tumors threatened to end my skating career and my life. It only made me stronger.


Scott Hamilton. Credit: Michael Gomez Photography.
I'm sure every cancer survivor feels this way, but my diagnosis, in 1997, of stage III germ cell testicular cancer couldn't have come at a worse time in my life. I was nearing the end of a 60-city tour with my figure skating show Stars on Ice, when a nagging pain in my abdomen became so severe I couldn't stand up straight, and performing became difficult. 
I had been on the figure skating tour circuit since launching my professional career after winning the gold medal in the 1984 Winter Olympics in Sarajevo, Yugoslavia, first with the Ice Capades and then with Stars on Ice, and I thought the pain was from an ulcer. Looking back on it now, I realize it was dumb of me to think an ulcer could be the source of so much pain. Still, I wasn't prepared to hear that a large mass about the size of a grapefruit in my abdomen was actually testicular cancer, and my fear was palpable. 
I tell people all the time, I never wish cancer on anyone, but there is an emotional and spiritual awakening that happens when you get a cancer diagnosis and your back is up against a wall.

— Scott Hamilton




Tweet this quote



Almost 20 years to the day of my diagnosis, cancer had taken the life of my mother, and I remembered the difficult 2 years she had spent undergoing chemotherapy and surgery to try to halt the breast cancer spreading throughout her body from killing her. And then something remarkable happened. My fear was suddenly replaced with amazing courage. I thought, "I'm going to beat this thing. I'm going to get to work. I'm fighting for my life now." I never imagined that I was so strong.
I tell people all the time, I never wish cancer on anyone, but there is an emotional and spiritual awakening that happens when you get a cancer diagnosis and your back is up against a wall. Cancer put me directly in touch with my life, and I was all in. I said to my oncologist, "Tell me what I need to do and I'll do it, because I have to get back to my life."
Duel Between Your Life and Cancer's Death
Right away, my oncology team at the Cleveland Clinic assured me they would do everything they could to preserve my fertility and protect my body and athleticism from permanent damage due to months of chemotherapy to reduce the size of my tumor and then extensive surgery from my sternum to my groin to remove whatever cancer remained, followed by more chemotherapy. Although I had resolved to face my treatment with courage—and even joy—at round 3 of my chemotherapy I hit a wall. The treatments had taken their toll, and my energy and self-esteem were completely drained from me. I wanted to quit.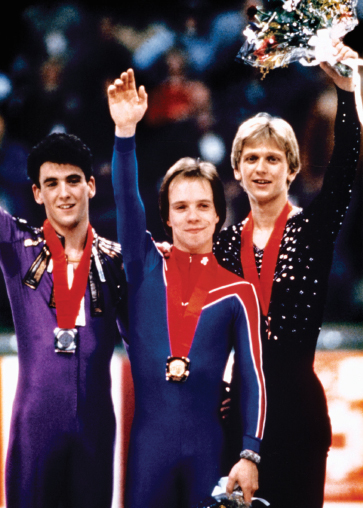 Scott Hamilton standing on the podium after winning the gold medal in men's figure skating at the 1984 Winter Olympics in Sarajevo, Yugoslavia. With him are silver medalist Brian Orser (left) and bronze medalist Jozef Sabovčik. Photo by Heinz Kluetmeier.
I didn't realize it at the time, but round 3 of chemotherapy is the trap. The cancer is almost gone, and it's fighting for its life, too. The duel between your life and cancer's death is exhausting, but to survive, I had to be stronger than the disease. 
Now, when I mentor patients with cancer through my CARES Foundation (www.scottcares.org), I'm honest with them about the side effects they can expect from their chemotherapy and surgery, and I hope it helps them push through the low points they encounter during treatment.
Beating the Odds
A childhood illness had stunted my growth. But instead of despairing that I would never be as tall as my peers, I discovered I was actually the perfect height for figure skating and started training in the sport at 13, winning a Junior National Figure Skating Championship title shortly before my mother's death in 1977. Figure skating is a very competitive sport, and I trained tirelessly to hone my skills. 
The training paid off. My record of four consecutive U.S. Figure Skating Championships and four consecutive World Figure Skating Championships wins in 1980 to 1984, followed by the Olympic gold medal in 1984, remains unbroken.
I had become a fundraiser for breast cancer research after my mother died, and now I knew I had to go further and become a cancer activist.

— Scott Hamilton




Tweet this quote



I brought that same passion and tenacity to my professional skating career, which at the time was unproven territory for male figure skaters. The pressure to perform at the top level night after night was intense, and it didn't leave much time to reflect on my life off the ice. 
Now, cancer was forcing me to take stock of how I was living and reassess everything I was doing. The more I thought about it, the more I realized that I had allowed the circumstances of my career to be the tail wagging the dog—me—and I knew I had to make some changes. Cancer was a reminder of how precious life is, but also how resilient we are. And while I was determined to get back to my skating career in whatever form that took after cancer was through with me, I knew there was another purpose to my life. I just didn't know yet what that purpose was.
Finding a New Life Purpose
My cancer treatments and the weeks spent in bed recovering from their effects left my body weakened and my muscles atrophied. But on September 1, 1997, 3 months after my surgery and while I was still undergoing adjuvant chemotherapy, I began rehearsing for a comeback television special, Scott Hamilton: Back on the Ice, and the going was tough. Now, I wasn't just Scott Hamilton, Olympian and professional figure skater; I was also a cancer survivor.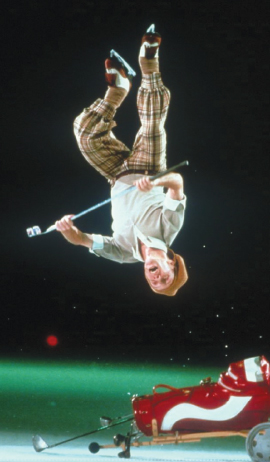 Scott Hamilton performing his signature backflip during the 2000–2001 season of Stars on Ice. Photo by Heinz Kluetmeier.
I had to increase my muscle strength and lung capacity to where they were before my diagnosis, but I knew I wasn't the same person and not quite the same skater either. In addition to combating the side effects from my cancer treatment, I was also contending with the effects of normal aging and the limitations they were imposing on my recovery. I had to shake down every part of my being—my body, my psyche, and my emotional strength (and I discovered later, my spiritual strength as well)—and build them back up.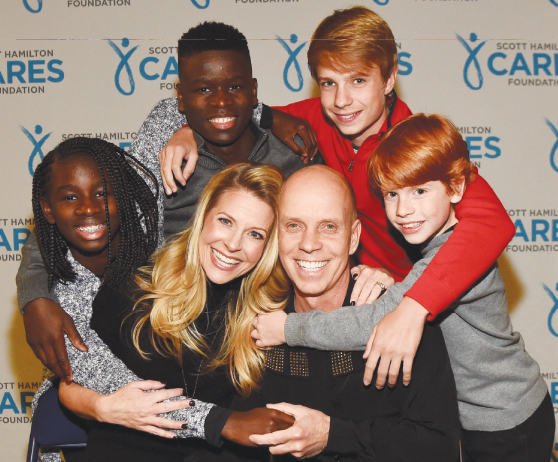 Scott Hamilton with his wife, Tracie, and their four children. From left to right: Evelyne, 15; Jean Paul, 17; Aidan, 15; and Maxx, 10. Credit: Getty Images.
Knowing there were so many people who wanted to see me return to skating inspired me to push through the pain of training and not let them down. One of my biggest memories from the television special was looking at all my friends in the audience and realizing I wasn't alone in my cancer survivorship. It was a powerful moment, and it was then that I knew I had to do something more for the cancer community. I had become a fundraiser for breast cancer research after my mother died, and now I knew I had to go further and become a cancer activist.
Giving Survivors Hope 
I decided to launch the 4th Angel Mentoring Program at the Cleveland Clinic soon after my cancer recovery, to match patients with survivors who have had a similar cancer experience. The idea came to me after realizing there had been three angels who helped me through my cancer journey. My first angel was my oncologist; the second was my oncology nurse; and the third was my family and friends. What was missing was a fourth angel to provide patients with one-on-one cancer support.
When I met with my oncologist soon after my diagnosis, I asked him how sick I could expect to be from the chemotherapy, and he said, "moderate to severe." I asked him what that meant, and he just repeated, "moderate to severe." I wanted to help other cancer survivors avoid the confusion and aloneness I had felt after my diagnosis and offer them the benefit of a mentor who had experienced a similar cancer trajectory but was now on the other side of survivorship. I wanted survivors to know they weren't alone in their cancer journey. We now have 1,000 patient mentors nationwide, and the program has been a wonderful success.
Facing Yet Another Life-Threatening Crisis
In many respects, 2004 was a watershed year for me. By then, I was in my seventh year as a cancer survivor, I had retired from the figure skating circuit and had launched a career in sports broadcasting, my work in cancer advocacy was going well, and my wife, Tracie, and I were raising a young family. At age 46, I thought I still had decades more of productive years ahead. After all, I reasoned, hadn't surviving cancer given me a pass on dying young? Wasn't one life-threatening illness in one lifetime enough? Surely, the odds of living well into old age were now in my favor.
So, the news that year that I had a craniopharyngioma—a benign brain tumor that develops near the pituitary gland—wrapped around my optic nerve and threatening to spread throughout my brain completely broadsided me and tested my faith. Radiation therapy was successful in eliminating the tumor, but 6 years later it recurred, and I was thrust into another health crisis.
This time, surgery was planned to remove the tumor, and it did not go well. Although the surgery was successful in removing the tumor, it also caused an aneurysm that temporarily blinded me in one eye, completely knocking me down. Then, in 2016, the tumor returned, and I decided to react differently. I heard a voice in my head telling me to "get strong," and that's what I did. 
I've had a career I never thought was possible, and now I want to use my time to show my gratitude for all the blessings I have…. For me, living with a spirit of gratitude is the only way to go.

— Scott Hamilton




Tweet this quote



Because the tumor was small, giving me time to consider my options, I decided to take a wait-and-watch approach and try a more holistic strategy to shrink the tumor. I knew radiation was no longer an option because it would have fried my brain, and I wasn't anxious to undergo surgery again, so I gave up any foods in my diet that might be fueling the tumor, including sugar and red meat. I only drink coffee or water with a high pH.
Several months later, a magnetic resonance imaging scan of my brain showed that the tumor had not grown. Even better, another scan a few months later found that the tumor had shrunk by about half. My most recent brain scan in December 2017 showed that the tumor had gotten even smaller, but I know I'm not off the hook. At some point, the tumor will start growing again and causing its mischief. For now, though, I'm concentrating on my family and my cancer advocacy.
Living With Gratitude
In 2014, I founded the Scott Hamilton CARES Foundation, with the goal of funding innovative research that treats the cancer but spares the patient. We want to be great citizens in the cancer community and do our part to support research and cancer survivors and change their fear to hope for a renewed life.
I've had a career I never thought was possible, and now I want to use my time to show my gratitude for all the blessings I have. I don't know what the future will hold for me, so I just try to live every day as joyfully as I can. I couldn't be more grateful for all the gifts in my life, especially my wife and children. 
For me, living with a spirit of gratitude is the only way to go. 
Scott Hamilton lives in Franklin, Tennessee, with his wife, Tracie, and their 4 children: Maxx, 10; Aidan, 15; Evelyne, 15; and Jean Paul, 17. Mr. Hamilton is Founder of the Scott Hamilton CARES Foundation and the Scott Hamilton Skating Academy, and is the author of several books, including Landing It: My Life On and Off the Ice (Kensington, 1999); The Great Eight: How to Be Happy (Even When You Have Every Reason to Be Miserable) (Thomas Nelson, 2009); and Finish First: Winning Changes Everything (Thomas Nelson, 2018). ■
---