Sarcoma Foundation of America Partners With ASCO's Conquer Cancer Foundation to Fund a 2018 Young Investigator Award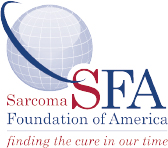 The Sarcoma Foundation of America (SFA) and Conquer Cancer have been working together for 13 years to fund cutting-edge sarcoma research. Most recently, the SFA joined forces with Conquer Cancer to support a 2018 Young Investigator Award (YIA) in sarcoma. This grant will provide 1 year of crucial funding for an early-career investigator to advance his or her pioneering sarcoma research. 
In the United States, sarcomas are rare and represent 1% of new cancer diagnoses and cancer-related deaths; however, they are more prevalent in childhood and adolescence, where they account for approximately 20% of cancer-related deaths.1 Research into novel therapies for sarcoma is challenging because of the small patient population, limited participation in clinical trials, and more than 80 different histologic subtypes of sarcoma that can develop in almost any part of the body. 
Along with John Brooks, MD, Mark Thornton, MD, PhD, and Patricia Thornton founded the SFA in 2001 after their 3-year-old son, Jeffrey, was diagnosed with sarcoma, and they were unable to find a national patient advocacy and research organization dedicated to sarcoma patients and families. The SFA has grown tremendously over the years, but what has not changed is the organization's commitment to sarcoma research, advocacy, and education. 
SFA funds high-risk, high-reward sarcoma research that would not likely be funded by the government or pharmaceutical companies. They encourage ASCO members to consider applying for an SFA grant to discover and develop new and effective therapies to treat and eradicate sarcoma. Reflecting the organization's spirit of collaboration, SFA has also funded numerous grants through the Conquer Cancer Grants and Awards program, such as the Young Investigator Award. 
"The Sarcoma Foundation is proud to partner once again with Conquer Cancer to fund an up and coming researcher through a Young Investigator Award," said Rich Rumsey, CEO, SFA. "We are excited to collaborate with an organization that shares our dedication to funding innovative cancer research and to making a difference in the lives of patients." 
"We know it can be very difficult to find funding for rare cancers that don't attract as much federal research dollars and private investment, so it is critical to encourage researchers to come into this field and stay. The YIA helps young researchers build their portfolio and attract larger grants down the road," said Lori Hoffman, Senior Manager of Public Policy and External Affairs at SFA. "Collaborating with Conquer Cancer helps us reach investigators that may not have known about the SFA, enabling us to be a part of funding something that otherwise we may have missed," she said. 
"Conquer Cancer is honored to partner with SFA to fund a YIA in sarcoma. For more than 30 years, the YIA has been awarded to the best and the brightest early-career cancer researchers studying some of the most difficult-to-treat cancers, such as sarcoma. On behalf of the researchers, patients, and families we are so thankful for the continued support and collaboration of SFA," said Nancy R. Daly, MS, MPH, Executive Vice President and Chief Philanthropic Officer of Conquer Cancer. 
In addition to funding cutting-edge research, SFA conducts nationwide education and advocacy efforts on behalf of sarcoma patients, such as the Sarcoma Patient Education Conference Series "Ask the Experts." SFA partners with leading sarcoma centers across the United States to offer highly interactive patient education sessions focused on topics of interest to patients and caregivers. These conferences bring together researchers, clinicians, patients, and caregivers to provide a unique forum for patients to ask questions and gain insight into the latest treatments and breakthroughs in sarcoma. 
One of the newer SFA programs is the Race To Cure Sarcoma™, a family-friendly 5K run/walk series to raise awareness and resources for sarcoma research nationally and locally. The festival atmosphere at the events—currently taking place in 12 cities across the United States—encourages patients, caregivers, and physicians to connect with one another and learn from shared experiences. In addition to helping build a sense of community, the races help to generate increased public awareness of sarcoma and the need for additional research funding. Learn more at www.racetocuresarcoma.org.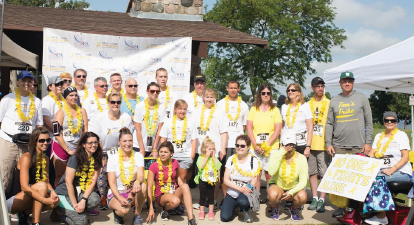 Photo from the 2017 Race To Cure Sarcoma Milwaukee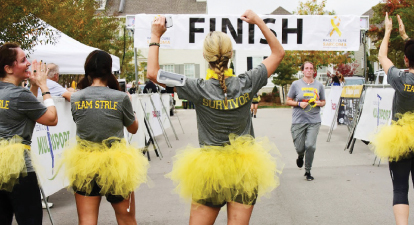 Photo from the 2017 Race To Cure Sarcoma Nashville
SFA encourages anyone with an interest in sarcoma to join the organization as a member. One of the major benefits of SFA membership is the monthly newsletter, which highlights SFA activities, breakthroughs in sarcoma, clinical trial information, local SFA events, and more. Over the next 5 years, SFA expects to expand its research portfolio to fund even more high-risk, high-reward sarcoma research and continue to grow its patient education opportunities. The organization continually strives to reach more people and demystify sarcoma through public service campaigns and other outreach. 
Learn more about SFA at www.curesarcoma.org. Learn more about Conquer Cancer at www.CONQUER.org. 
REFERENCE 
1. Dancsok AR, et al: Advances in sarcoma diagnostics and treatment. Oncotarget 8:7068-7093, 2017. 
© 2018. American Society of Clinical Oncology. All rights reserved. 
---